#FoundationFestivities
Wondering what each ENF staff member's most memorable story is from 2018?
Look no further than this page! We'll be updating it with everyone's favorite stories of the year from the Hoop Shoot highlights to
Midday
shows. We're also sharing what everyone is looking forward to for the holidays, and for 2019. Check it out!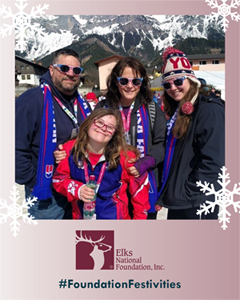 Kate Edsey, Development Manager
As part of the fundraising team, Kate regularly hears inspirational donor stories, and reading "The Muns are the Ones for the Fidelity Club" especially struck a chord with her. She loves that "this father and daughter are Elks, and they both show their support of the Foundation with recurring gifts through the ENF Fidelity Club."
Wondering what Kate's looking forward to this holiday season? Spending time with her family because "being together is the best present!"
Read Kate's favorite story here.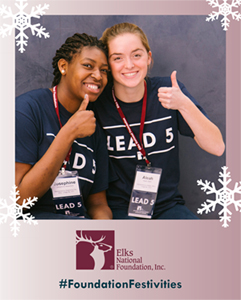 Maryann Dernlan, Scholarships Senior Associate
Next up in #FoundationFestivities is Maryann Dernlan! She pulled off some amazing scholarship experiences this past year including the 150 for 150 Service and Celebration Weekend. Her favorite story is the Lead5 recap film because that weekend was "one of the most meaningful events" of her career.
"The Leadership Weekend brings together students with diverse backgrounds from all over the country who are all making a difference in their communities and reminds me of what is to come for these students as they enter college—new beginnings for their future, personal growth and development; and for society—the benefits of their future careers, innovation, research, and public service."
Watch the video to see why it left such an impact on Maryann here.
Nathan Kriha, Donor Services Coordinator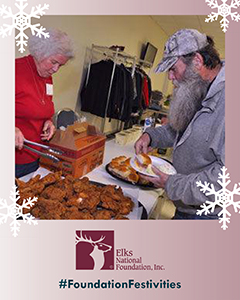 Nathan is next in #FoundationFestivities! His favorite story from the year is actually a Midday podcast—Episode 47: "An Issue That Demands Our Attention" because "it expresses the harsh realities and difficulties surrounding veteran's homelessness while highlighting different Lodges' efforts in combating the issue."
"It empowers me to know that I work for an organization that truly finds passion in serving veterans who may be struggling to find a home." Visit Midday to listen to the episode here.
For Christmas, Nathan is excited to visit home and see all the little ceramic villages his mom covers their house in every Christmas!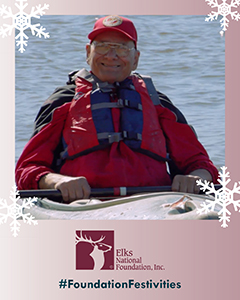 Chelsea Dennis, Lodge Grants Program Associate
With just five days until Christmas, #FoundationFestivities continue! As a Lodge Programs Associate, Chelsea's favorite story is naturally one about a Freedom Grant project out of St. Louis, Mo., Lodge No. 9. The Lodge took veterans on a relaxing kayaking experience, and Chelsea liked "hearing firsthand from veterans about how the program helps them transition back into civilian life." Watch the video for yourself on our Facebook page.
This Christmas, Chelsea is excited to cook her first full meal without her mom's help. All she asks is that you all wish her luck! #CountdownToChristmas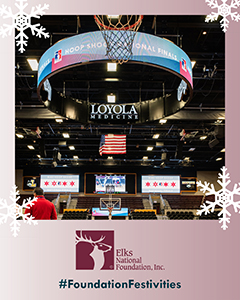 Christine Robinson, Communications Senior Associate
It was hard for Christine to pick just one favorite moment from this year, but she went with the 2018 Hoop Shoot National Finals, a project that showed her that hard work pays off.
"When I walked into the arena the day before the National Finals and saw the branding on the big screens, I felt a sense of pride, not just in myself and the team, but pride in the Elks, ENF and National Finalists." Relive the 2018 National Finals here.
This Christmas, you'll find Christine listening to Christmas music and watching all the cheesy holiday movies on Netflix. #FoundationFestivities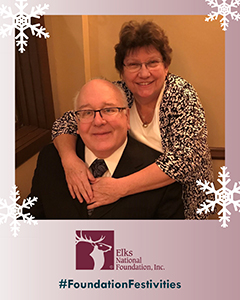 Marcee Northey, Donor Services Manager
One of Marcee's favorite parts of being the Donor Services Manager is working with ENF volunteers. No surprise then that her favorite story from the year is about Al and Stephanie Ingraham, two ENF Fidelity Club members and Fundraising Chairs—at two different Lodges! Read their story
here
.
Marcee is most looking forward to spending time with family and friends around the holidays while enjoying lots of Hallmark Christmas movies. #FoundationFestivities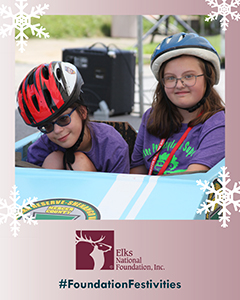 Olivia Tuck, Development Coordinator
Just two days left until Christmas! We have more #FoundationFestivities from you from Olivia! One of her favorite stories of the year is "Celebrate 150 Years with 1,500 Gratitude Grants" because Lodges broke even more grant records in 2018.
"I hope this record, along with others set in 2017-18 and the Promise Grant record broken in August, is an indication of what is to come for Elks' involvement with ENF Grants and the service they provide to their communities in the future!"
Speaking of the future, Olivia is excited to spend Christmas with her new fiancé!
"These past few weeks have marked the beginning of the rest of our lives, and I can't wait to forge new traditions with him."
Those aren't tears, there's just tinsel in our eyes. And check out the full Gratitude Grant story here.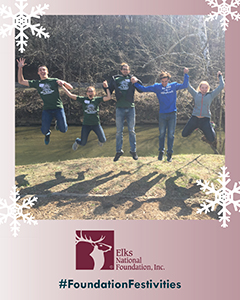 Colleen Conrad, Lodge Grants Manager
In the spirit of #FoundationFestivities on this Christmas Eve, Colleen shares her favorite film from the year, "The Elks Family Means Compassion." The film captures what it was like "to spend a week with like-minded, service-oriented individuals" during the Elks Scholar Service Trip to Asheville, which Colleen got to attend!
"It gives me all the warm fuzzies!"
If you want to get the warm fuzzies too, watch the video below! Colleen is excited to spend her first Christmas with her now-husband!
"We've spent five holiday seasons together already, but it's extra special this year." If that doesn't warm even the coldest of Scrooge hearts, nothing will.
Watch Colleen's favorite video here.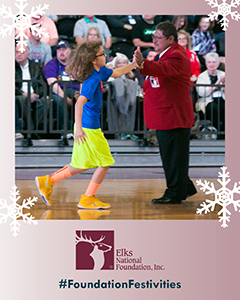 Lisa Hartman, Programs Coordinator
Merry Christmas to all! We hope you're enjoying the holiday, surrounded by friends and family.
Our Christmas gift to you is Programs Coordinator Lisa Hartman's favorite video of the year—the 2018 National Finals Highlights–Extended Version. Relive the magic of the 2018 Hoop Shoot National Finals here.
"Tens of thousands of volunteers and families come together each year to make the Hoop Shoot happen, building gritty kids and stronger communities in the process—all through one of America's favorite games!"
Lisa is spending her Christmas with her family in Boulder, Colorado, and she's excited to make some new memories in the mountains with people she loves!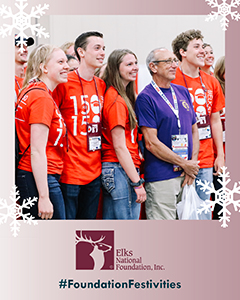 John Kavula, Elks Scholar Fellow
If you thought #FoundationFestivities ended yesterday with Christmas, you thought wrong! We're taking them all the way through New Year's Day. Next up is John whose favorite story was the "150 for 150: Side-by-Side Service" film because it "shows how much of an impact Elks can have on students who receive our scholarships, and it highlights how great the scholars are." Watch the video
here
.
This holiday season, John visited his family in Boston, and got to enjoy eggnog and Christmas music in their new home!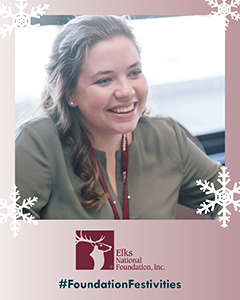 Kate Geldert, Donor Services Coordinator
While Kate's favorite stories from the year are all 19 videos from "The Future Looks Like…" film series, if she had to pick one, it would be Top Female MVS Winner Maitland Thull.
"Her optimism and outlook on life are so heartwarming." If your heart needs some warming now that Christmas is over, look no further than Matiland's film here.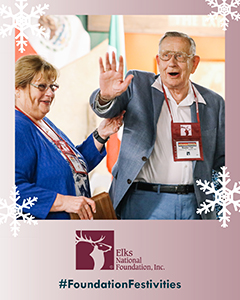 Taylor Odisho, Communications Coordinator
As the Communications Coordinator, Taylor talks to a lot of incredible Elks, donors and scholars, but one of her most memorable interviews was with Nester Tan after he received the platinum-level donor plaque at the ENF Donor Event in San Antonio.
"Speaking with Nester after he was brought to tears during a standing ovation at the event showed me Elks' dedication to supporting the ENF and, by proxy, enriching the lives of hundreds of thousands of people each year." Read Nester's full story here.
This holiday season, Taylor looks forward to being with family and friends, and setting some goals for 2019! #FoundationFestivities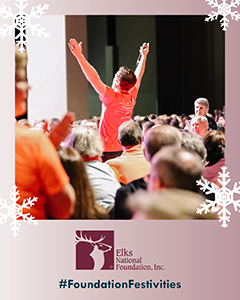 Debbie Kahler Doles, Assistant Director
While picking a favorite story from the year was like picking a favorite child for Debbie, she settled on the "The Selfless Sound of Service," a feature about the Scholarships Program at the ENF.
"It beautifully captures the rich history of the Order and ties it to our scholars' service in the name of the Elks and the largest gathering of Elks scholars ever." Read it here.
Over the holiday season, Debbie spent time with her family, friends and, of course, her dogs celebrating the joys of the season. #FoundationFestivities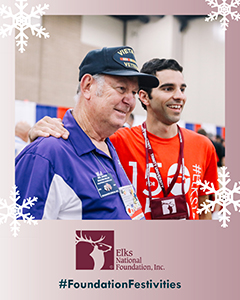 Ashley Hart, Donor Services Coordinator
Ashley has done a lot of work with the ENF Fidelity Club, so of course her favorite story for #FoundationFestivities is about Sean Pringle—an Elks scholar, member of the Order and monthly recurring donor!
"Sean Pringle is a living example of why the ENF exists. I'm proud to work at a place that values its constituents, volunteers, donors, and the #ElksFamily that grows each year." Read how Sean is "Tying Together the Elks Family" here.
With the new year starting tomorrow, Ashley is excited to see what's yet to come, and she wants to thank all of you "for making 2018 our best year yet!"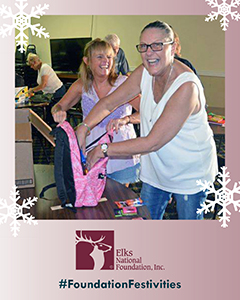 Jocelyn Moya, Lodge Grants Program Associate
Happy New Years Eve! Next up in #FoundationFestivities is Jocelyn! She spends a lot of her time in the CIP office reviewing grants, so she knows a good Lodge picture when she sees one. Jocelyn's favorite post from the year is about Taunton, Mass., Lodge No. 150's back-to-school Gratitude Grant project!
"You really get a sense for the Lodge in that they get things done but know how to have fun."
And what's Jocelyn most looking forward to this holiday season? Eating lots of delicious food surrounded by the people that mean most to her and seeing how many grant applications the ENF gets for the year! Revisit the post here.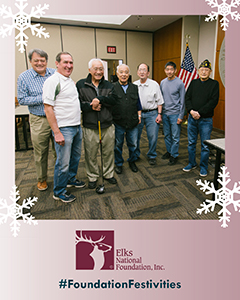 Jim O'Kelley, Director
Last but not least is Jim's favorite story from 2018! He chose Veterans Service Director Mary Morgan's "Happy ENF Month" blog post because "it hits on several themes we're always touting at the office."
"The post demonstrates our commitment to developing our employees," Jim continues. "Mary started working as a coordinator in our Donor Services Department. Now, she manages a program with a $3.8 million budget.
"In addition, it illustrates that our work is a team effort and that every job is important."
(Jim is fond of sharing the wisdom of Daniel Tiger.)
"Finally," continues Jim, "Mary's post makes it clear that the members matter–there's no us without them."
Revisit Mary's post on the blog.
During the holidays, Jim was most excited to share the excitement of the season, including old family traditions, with his kids.

Thanks for following along and revisiting our favorite stories from 2018 during #FoundationFestivities! We hope you had a great holiday season.
---
Back to top