2015 Weigel Medical School Scholarship Winner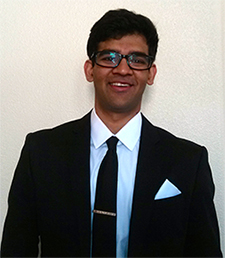 We are proud to announce the recipient of the 2015 Gunther & Lee Weigel Medical School Scholarship—Sumedh Shah. Thanks to the generosity of the late Mrs. Gunther Weigel, Sumedh will receive a $20,000 scholarship to help him pursue his dream of becoming a doctor.
Sumedh received a 2012 Most Valuable Student scholarship sponsored by Thousand Oaks, Calif., Lodge No. 2477. He went on to graduate in three years with a degree in biological sciences from the University of Miami. He will return to the University of Miami this fall to begin medical school.
Sumedh knew he wanted to dedicate his life to medicine, specifically neurological surgery, after his father died of brain cancer.
"I want to pursue neurosurgery because I want to provide compassionate and quality care to patients and their family members who are going through a similar situation my family and I endured," says Sumedh.
Since his father passed away, Sumedh has spent numerous hours shadowing doctors and observing operations. The more he learned, the more his passion grew.
One of Sumedh's most influential professors is a member of the Elks family. Dr. Jeffrey Prince, a member of South Miami/Coral Gables, Fla., Lodge No. 1676, taught Sumedh the nuanced skill of Electron Microscopy at the University of Miami.
"I am an Elk and I am very proud to be able to recommend someone as accomplished as Sumedh for a Gunther & Lee Weigel Medical School Scholarship," says Dr. Prince. "Sumedh exemplifies all the qualities that represent my understanding of the Elk tradition."
Even when he was busy learning the ins and outs of neuroscience, he always found time to give back to his community. Sumedh served as a mentor for local high school students and as a peer advisor for other students in the Honors Program.
Sumedh is proud to have his Elks family by his side during this journey and he looks forward to bringing what he learned as an Elks scholar into the operating room.
"Once I become a physician, my service does not end," says Sumedh. "It truly just begins, and I will use the lessons learned as an Elks scholar to provide quality, patient-centered care and help the people of my community."
In 2015-16, the Elks National Foundation appropriated $4.16 million to fund the ENF scholarship program, which provides college scholarships, ensuring a bright future for our nation's youth. As important parts of the Elks family, Elks scholars have many social and service opportunities to connect with the Elks and each other. For more information about our scholarship programs, and for ways Lodges can get involved with Elks scholars, visit www.elks.org/enf/scholars.
---
Back to top