Taking the Second City by Storm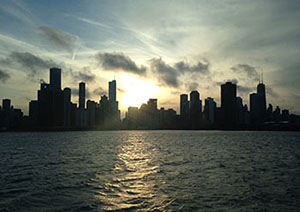 This April, 20 Elks scholars get the chance to visit Chicago and the chance at a $50,000 scholarship! The 20 Elks scholars will visit Chicago from April 24-26, 2015, during the second annual Most Valuable Student Leadership Weekend.
All 20 Elks scholars will receive a scholarship of at least $20,000, but they will interview with a panel of national judges for a top award of $30,000, $40,000 or $50,000!
Before the big interviews, the scholars will have a chance to get to know each other through team-building activities on Friday afternoon. In addition, they'll learn more about their new Elks family through a scavenger hunt at the Elks Veterans Memorial Building.
Current and former Elks scholars will be on hand during the weekend to tell the newest members of the Elks family what being an Elks scholar is all about.
Saturday morning will kick off with interviews with the MVS national judges. When the interviews conclude, the Elks scholars will serve veterans in need together at Chicago's Jesse Brown VA Hospital.
The entire weekend will be capped off with a celebratory dinner cruise on beautiful Lake Michigan on Saturday evening.
When the Elks scholars depart on Sunday morning, we know they will be proud new members of the Elks family and they'll leave with memories that will last a lifetime.
To follow along with all the action during the weekend, use #ElksFamily and follow @ElksScholars on Twitter, like the Elks Scholar Facebook page, and check out @elksscholars on Instagram.
For an inside look at the weekend, click here to watch a short film about last year's inaugural MVS Leadership Weekend.
The top 20 MVS finalists attending the Leadership Weekend are listed below.
Briana Abraham
Sponsored by Camden-Lugoff, S.C., Lodge No. 2603
Lorraine Ador Dionisio
Sponsored by Simi Valley, Calif., Lodge No 2492
Mary Agajanian
Sponsored by Glendale, Calif., Lodge No. 1289
Mark Ansell
Sponsored by Sunland-Tujunga, Calif., Lodge No. 2098
Ciera Ballmer
Sponsored by Beloit, Wisc. Lodge No. 864
Jessica Carter
Sponsored by Elgin, Ill., Lodge No. 737
Angel Chaffin
Sponsored by Gatlinburg, Tenn., Lodge No 1925
Carl Fee
Sponsored by Great Falls, Mont., Lodge No. 214
Gabriella Haire
Sponsored by Brainerd, Minn., Lodge No. 615
Jacob Han
Sponsored by Fullerton, Calif., Lodge No. 1993
Trevor House
Sponsored by Bozeman, Mont., Lodge No. 463
Sarah Jiudice
Sponsored by Southampton, N.Y., Lodge No. 1574
Tristan LaCombe
Sponsored by Tahlequah, Okla., Lodge No. 2601
Andrew Lindquist
Sponsored by Sioux City, Iowa, Lodge No. 112
Megan McCulley
Sponsored by Easton, Md., Lodge No. 1622
Colter Norick
Sponsored By Kalispell, Mont., Lodge No. 725
Charles Rogers
Sponsored by Traverse City, Mich., Lodge No. 323
Benjamin Schragger
Sponsored by Trenton, N.J., Lodge No. 105
Tyler (Gracie) Thull
Sponsored by Mobile, Ala., Lodge No. 108
Christopher Vincent
Sponsored by Lakeport, Calif., Lodge No. 2704
For 2015-16, the Elks National Foundation allocated $2.74 million to fund the Most Valuable Student scholarship program, which includes 500 four-year Most Valuable Student Scholarships. For more information about the Most Valuable Student scholarship program, including eligibility and deadlines, visit www.elks.org/enf/scholars.
---
Back to top