Building Stronger Communities, Building Brighter Futures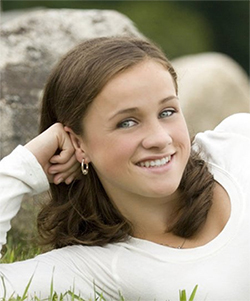 The Elks National Foundation helps Elks build stronger communities. Now, thanks to her ENF scholarship,
Emergency Educational Grant
recipient Jessica Houghton is helping build the future, literally, through a career in architecture.
Jessica, sponsored by Billerica, Mass., Lodge No. 2071, studies architecture at Wentworth Institute of Technology in Boston. Her interest in the field was piqued in high school, where she learned mechanical and architectural drafting, even winning awards for her technical abilities.
Designing her Future
In college, Jessica developed herself professionally through her involvement in the Events and Fundraising Committee for her school's chapter of the American Institute of Architecture Students. Through her involvement, she has connected with students who share an interest in architecture across Boston. The group hosts lecture series, workshops and portfolio reviews to help members expand their knowledge and bring them closer to becoming licensed architects.
Thanks to years of hard work and maintaining a high GPA, Jessica was offered automatic acceptance into Wentworth's Master of Architecture program. She plans to obtain her license in architecture, and eventually lead her own architecture firm. She also hopes to become LEED Certified, which would enable her to be environmentally responsible and use resources efficiently in future designs.
Besides her professional aspirations, Jessica is active on campus. She is a resident assistant for campus housing and captain of Wentworth's Women's Lacrosse team, through which she has performed various fundraising events to help the local community.
Building Community with the Elks Family
Jessica, whose older sister Selina was also an EEG recipient, learned of the scholarship from members at her father's Lodge, where she has fond memories of their involvement in the community.
"Members of the Elks community have always been supportive of me and my family," says Jessica. "Growing up, I remember the Elks being one of the most supportive organizations behind so many events."
She is grateful to the Elks for helping her achieve her dreams of attending college and studying architecture.
"Without an ENF scholarship, I would not be able to participate in nearly half as many activities on campus," says Jessica. "I'd like to thank you from the bottom of my heart for the Emergency Educational Grant! I've become a member of multiple communities and together we can all move forward to a better future through involvement."
Now, as a member of the Elks family, Jessica will continue to help build stronger communities to create a better future for all.
In 2015-16, the Elks National Foundation allocated $322,450 to fund the Emergency Educational Grant program for children of deceased or totally disabled Elks. If you know any Elks children who may be eligible to receive an Emergency Educational Grant, encourage them to visit www.elks.org/enf/scholars for information, including eligibility and deadlines.
---
Back to top