2013 ENF Cornerstone Grants
In 2013, the Elks National Foundation awarded four $500
Cornerstone Grants
to partner with Legacy scholars in service to their Lodge communities. Read how two Elks scholars used these grants to help build stronger communities.
A Synonym for Success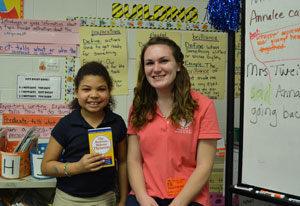 For some elementary school students, the word "vocabulary" may not even be part of their vocabulary. Yet Annalee Tweitmann knows the power of a robust vocabulary and how it impacts not just sophisticated writing but ultimately academic success.
Annalee, a 2012 Legacy Awards recipient sponsored by Lakewood, N.J., Lodge No. 1432, used her Cornerstone Grant to provide thesauruses to third graders in local schools to help improve both their knowledge of the English language and their ability to be effective communicators. Annelee, currently a sophomore at Cornell University, knows how a strong educational foundation can lead to future success.
Improving Sentences, Improving Minds
In addition to giving out over 120 thesauruses to students and the school's library, Annalee also met with students to give helpful hints on how to use their new guide by showing them examples of synonyms, antonyms, and how word choice impacts the effectiveness of a sentence.
"I put practice sentences on the board, and asked students for their suggestions on how to make the sentence better," explains Annalee. "We went through every suggestion and picked the best way to improve the sentence."
A Lasting Impact
For Annalee, third grade was a defining year of her education, still influencing her success and writing abilities today.
"My third grade teacher inspired me to go to college, pushed me to try harder and provided the resources for me to flourish as a student," says Annalee.
However, not all students in Annalee's community have access to the same resources that have enabled her to succeed.
"In 2012, only 26 percent of third graders were proficient in Language Arts," she explains. "Many cannot afford lunch, let alone a thesaurus."
Literacy in Lakewood
Now, thanks to Annalee and the Elks, Lakewood youth have a resource to improve their vocabulary, their writing, and their ability to communicate effectively.
Annalee is thankful for the support of the Elks, not only to help her community, but also for the lasting impact the Elks have had on her life.
"The Elks have been a major part of my life, and I am so grateful for all of their help, support, and opportunities," she says. "The Elks are an honorable, charitable organization and to partner in service with them meant to align myself with some of the best people on earth."
Video Games for Vets
For Marissa Shenkle, a lifelong love for veterans and their service led her to honor them by improving their lives now with the help of the Elks.
Sponsored by Union City, Ga., Lodge No. 1617, Marissa, a sophomore at Georgia Southern University, used her Cornerstone Grant to help veterans at the VA Medical Center in Atlanta by providing them with a new source of entertainment.
Game On!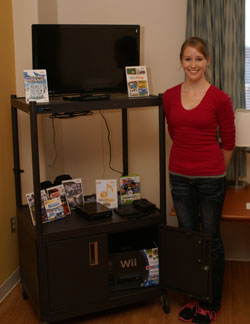 For Marissa, veterans have always had a special place in her life.
"I have always had a deep love and respect for veterans," she says. "Both of my grandfathers are vets and I have grown up around vets at the Elks Lodge."
Her desire to serve veterans allowed Marissa to work with the VA to come up with a creative way to improve their lives during times of illness.
"We were told that some of the younger vets who were receiving lengthy treatments had requested a gaming system, TV, and some games to help pass the time," explains Marissa.
With her Cornerstone Grant and Lodge No. 1617 behind her, Marissa was able to purchase an HDTV, a Nintendo Wii gaming system, an audio stand, controllers, and games for the veterans to play.
Donating Technology and Time
With the assistance of Lodge members, Marissa set up the new gaming system at the hospital, then hosted a event for the veterans with desserts and friendly conversation.
"Everyone was very thankful for our donation and for caring enough to help out the veterans," says Marissa, who also told the veterans about the Elks and the work they do in their community.
"It was a wonderful visit and I hope to visit them soon to see how they are doing and if they are enjoying our gift."
The Support of the Elks
Marissa is grateful for the support of the Elks National Foundation and her Cornerstone Grant.
"I am so proud of what the Elks do for local vets," she says.
Now Marissa can count herself as a member of the Elks family who has helped local veterans in need.
The Elks National Foundation provides $3.74 million in college scholarships each year. Today's Elks scholars can be tomorrow's Elks. Be sure to include Elks scholars from your Lodge in Lodge events and service projects. For more information about our scholarship programs, and for ways Lodges can get involved with Elks scholars, visit www.elks.org/enf/scholars.
---
Back to top