Scholar Advisory Board Spotlight: Sean Pringle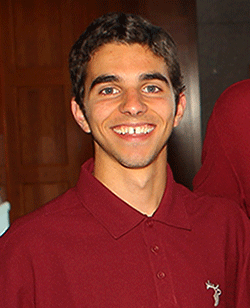 Hi, my name is Sean Pringle and I'm a junior in the civil engineering program at Cal Poly State University in San Luis Obispo, California. I'm also a 2010 Most Valuable Student scholar. For the past two years, I've served as a representative on the
Elks Scholar Advisory Board
to help connect Elks scholars with other scholars on campus and across the country. When I was a freshman I started an Elks scholar group on my campus. Now I look forward to beginning my third year leading the group in meet-ups and volunteer opportunities.
I've enjoyed these past few years of college life. The greatest thing for me, though, has been finding a network of students within my field to study and hang out with. I've appreciated having people to talk to, especially during those stressful times that accompany the busy college life. I'm sure we've all gone through one or two of those (at least).
At Cal Poly, I enjoy hiking up the mountains that surround the campus, attending the farmers' markets in the city, and helping out as a member of our civil engineering club, which competes in concrete canoes races (yes, they float!) and small-scale steel bridges.
One of the things I am most proud of as an Elks scholar is my connection with my local Elks Lodge—Oceano/Five Cities, Calif., Lodge No. 2504. During my senior year in high school, I enjoyed helping my Lodge during its crab dinners and luncheons, and I soon realized just how involved the members are in my community. I've had the wonderful opportunity to volunteer with them during the school year and bring other Elks scholars to the Lodge to meet members (and share a meal or two!). It's exciting to me to see how helping the Lodge with events throughout the year means so much. At the same time, it produces a positive impact within the community and promotes great fellowship within my Elks scholar group.
This past spring, as part of the April Elks Scholar Month of Service, the Cal Poly Elks scholars worked with a few Lodge members to put on a presentation at a local elementary school that celebrated the American Flag. This year, I look forward to helping the Elks National Foundation bring more Elks scholars together, especially for our annual Elks Scholar Month of Service.
To enhance scholar relations and communication, the Elks Scholar Advisory Board was founded in 2009. For more information about the Elks Scholar Advisory Board, please visit www.elks.org/enf/scholars/scholaradvisoryboard.cfm.
---
Back to top