Kicking for a Cause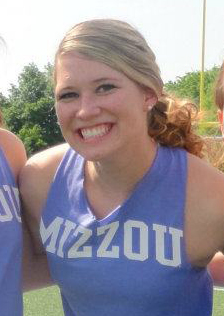 When your father is the high school coach, soccer becomes a part of your life. This is how it was for Christine Haddox, 2012 Emergency Educational Grant Recipient sponsored by Washington, Mo., Lodge No. 1559. When her father passed away in 2010, Christine wanted a fitting way to remember him. Thus began the Duane Haddox Memorial Scholarship Tournament.
"My father kept in touch with his athletes through the years and occasionally brought them together to play," says Christine. "Nobody wanted that to end because he was gone."
Christine studies business management at the University of Missouri, her father's alma mater. Being so far away from home made planning the tournament difficult the first year. Christine is grateful to her mother and brother who supported her back home.
"That first year there were so many decisions to make," says Christine. "What are the rules? How big is the field? How many people will be on a team? How will we make money? The second year was much smoother because all this was already in place. The biggest challenge the second year was to make sure this was continually a great event."
Christine found the right formula to make the event even more successful the second year. The first year of the tournament saw 16 teams compete and helped the family raise $3,500 for the scholarship fund. The second year they raised more than $4,000 and had 24 teams enter the tournament.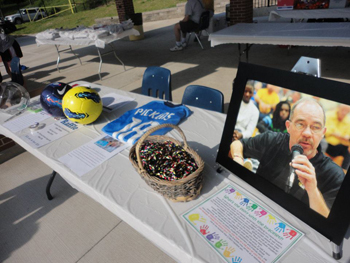 Christine chose to hold the tournament at St. Francis Borgia High School where her father had been a soccer coach.
"When my father passed away, the school built a memorial to him on one side of the field with a fountain, statue and benches," says Christine. "I wanted to have the tournament there so that people have a chance to visit the memorial."
Christine's father was not only a long time coach and teacher at St. Francis Borgia, but the athletic director and dean of students. The school was also his alma mater. So Christine found it fitting that the scholarship recipient would be a graduating senior from the school, who exemplified everything her father stood for.
So far the Haddox's have given away one scholarship and are in the process of selecting the scholarship recipient for this year. Coaches nominate students and then a panel from the high school makes the final decision.
After all the ups and downs of planning the tournament, awarding the scholarship was very rewarding for Christine.
"Meeting the scholarship recipient and seeing the emotion on his face because he was so grateful, meant so much to me," says Christine. "We created a scholarship that was so deserving of him and that is something that I know my dad would have been proud of. To be able to do this for my father, even when he's not here, makes me really happy."
Christine will graduate in December 2013 and plans to pursue a career in business. Having grown up going to the Elks Lodge with her father and seeing them give back to the community, she is grateful that the Elks are supporting her as she works toward her degree.
"The scholarship could not have come at a better time to help with all the stresses after my dad passed away," says Christine. "I always saw the Elks give back to our community, but I never thought about it coming to me. Now that it has affected me in this way, I'm so much more grateful for what they do."
With Christine's motivation and drive, we know the tournament will continue to be a success and help her community for years to come.
In 2012-13, the Elks National Foundation allocated $300,000 to fund the Emergency Educational Grant program for children of deceased or totally disabled Elks. If you know any Elks children who may be eligible to receive an Emergency Educational Grant, encourage them to visit www.elks.org/enf/scholars for information, including eligibility and deadlines.
---
Back to top