Fun in the Desert Sun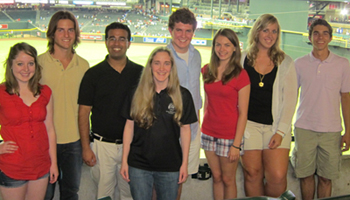 This July, the Elks Scholar Advisory Board descended on the desert for their annual meeting during the 2011 Elks National Convention in Phoenix, Ariz.. There, they discussed all things Elks scholar-related.
President and Junior representative Clara Ritger; Vice President and Sophomore representative Sean Pringle; At Large members Erika Barger, Prateek Kumar, and Macy Warburton; Senior representative R.J. Barthelmes; Freshman representative Maryann Slater; and the 2011 Alum of the Year Jimmy Tomczak gathered to discuss Elks scholar relations and new ways to engage Elks scholars with each other and the Lodges near them.
Throughout the weekend in Phoenix, the Elks Scholar Advisory Board shared ideas on how to enhance existing Elks scholar programs such as the Elks Scholar Speaker Program and Elks Scholar Meet-Ups. They also came up with new ideas to enhance Elks Scholar Alumni Relations and the Elks Scholar Month of Service.
Aside from the annual meeting, the Elks Scholar Advisory Board members also met Elks from their state associations, the Hoop Shoot Regional Directors (and shot a few baskets), friends of the ENF, and members of the ENF Board of Trustees, all while having fun and getting to know one another.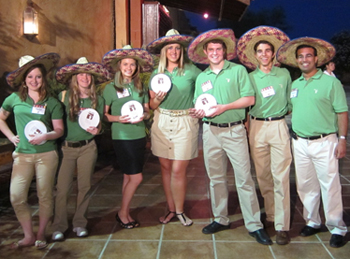 After a productive meeting, the Elks Scholar Advisory Board attended the Opening Ceremonies of the Elks National Convention and learned more about the Elks organization as a whole. They left Phoenix with new friendships and many great ideas for the year to come!
"I've never felt more grateful and blessed to be part of something," Elks Scholar Advisory Board member Maryann Slater said. "Thank you to the Elks National Foundation and Elks scholars for a great experience!"
To enhance scholar relations and communication, the Elks Scholar Advisory Board was founded in 2009. For more information about the Elks Scholar Advisory Board, please visit www.elks.org/enf/scholars/scholaradvisoryboard.cfm.
---
Back to top