Caring For All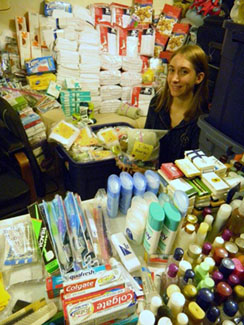 Ashlee Kephart, a 2009 Most Valuable Student scholar sponsored by Minneapolis, Minn., Lodge No. 44, received a 2010 Cornerstone Grant to enhance her nonprofit Kids For A Better World. When Ashlee learned she received a $500 Cornerstone Grant, she immediately went to work planning how to make the most impact.
Through Kids For A Better World, Ashlee distributes Caring Bags For The Homeless, which she describes as "little bags of hope" that address the needs of the homeless by providing them with personal care items. But the bags provide much more than everyday items, they also let them know that someone cares.
"The men and women at the shelter were very excited and appreciative to receive the Caring Bags," says Ashlee. "I could see how much it meant to them knowing that someone cared. For many of them, they have never had their own washcloth or soap before."
With her 2010 Cornerstone Grant, Ashlee was able to make 120 more bags and a difference in 120 lives. In a letter from one of the homeless shelters, the guests thanked Ashlee for her work. "The time, energy and thoughtfulness you devoted to this donation is extremely meaningful. Most meaningfully, you have shown participants that people in the community care for them."
Ashlee is grateful for the thanks, but one thing meant more to her than these kind words. "Seeing the smiles on their faces meant the world to me," she says.
Kids For A Better World is now embarking on a new project in addition to Caring Bags For The Homeless. Ashlee is creating Caring Cards For Veterans. She is collecting 60 minute calling cards that she will hand out to over 1,000 National Guard troops being deployed this spring.
Ashlee's dedication to her community is remarkable and we wish her all the best as she continues to make a better world.
Click here to watch a video of Ashlee distributing Caring Bags For The Homeless.
In 2010-11, the Elks National Foundation allocated $2.296 million to fund the Most Valuable Student Scholarships. For more information about the Most Valuable Student scholarship program, including eligibility and deadlines, please visit www.elks.org/enf/scholars.
---
Back to top