The Most Magical Place on Earth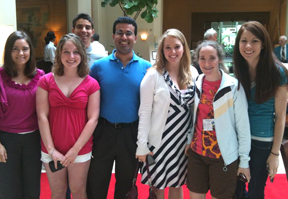 This July, seven of the eight members of the Elks Scholar Advisory Board traveled to Orlando, Fla., to visit the most magical place on earth—the 2010 Elks Grand Lodge Convention.
President and Senior representative Prateek Kumar, Vice President Erika Barger, At Large members Jen Swartz and Alison McQuade, Sophomore representative Clara Ritger, Freshman representative Sean Pringle and the 2010 Alum of the Year Katie Chambers gathered to plan for the coming year about the best ways to engage Elks scholars, and connect scholars to the Lodges near them.
Their time in Orlando was well spent. The Elks Scholar Advisory Board members enjoyed meeting Elks members from their home states, getting to learn more about other ENF programs such as the Elks National Hoop Shoot and the Elks Drug Awareness Program, and coming together to discuss how to best engage Elks scholars in college and beyond. They even had dinner with the ENF Board of Trustees!
After a productive meeting, the Elks Scholar Advisory Board celebrated the Fourth of July by watching the fireworks at the Magic Kingdom. They left Orlando with many great ideas for the year to come, and can't wait to start implementing them!
To enhance scholar relations and communication, the Elks Scholar Advisory Board was founded in 2009. For more information about the Elks Scholar Advisory Board, please visit www.elks.org/enf/scholars/scholaradvisoryboard.cfm.
---
Back to top