An Ounce of Prevention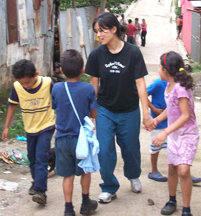 For ENF Cornerstone Grant recipient Angela Suen, a graduate of UCLA and 2005 MVS scholar, college life was about taking things into her own hands. From the classes she took to the interests she pursued, Angela made sure to always choose paths that contributed to her intellectual growth and commitment to volunteerism.
It's this attitude that led Angela to apply for a 2009 ENF Cornerstone Grant. She had already planned to travel to rural El Salvador in the summer of 2009 to volunteer with the Children's Oral Health and Nutrition Project. Through this program, Angela would spend her summer teaching children of rural underserved communities the importance of dental hygiene and healthy living. With the help of a Cornerstone Grant, Angela knew she could do even more!
Thanks to her $500 Cornerstone Grant, Angela was able to distribute 720 toothbrushes to those who attended her workshops on nutrition, dental hygiene and health care options. With the knowledge they gained and the necessary tools on hand, the children at Angela's workshops left well equipped to prevent future dental complications.
"I was happy to brush some teeth and show children how to properly care for themselves," says Angela. "It was gratifying to see children walk away with toothbrushes and toothpaste."
In addition to her work in El Salvador, Angela, a neuroscience major, spent much of her time in college volunteering in Los Angeles. Outside of class, she was able to devote her time to helping others because of her Elks National Foundation scholarship, sponsored by South San Francisco, Calif., Lodge No. 2091.
"I had a fuller college experience because I could explore other academic interests and opportunities available only during college," Angela explains. "Without financial support from the ENF, this would not have been possible."
Today, thanks to the volunteer connections she made in college, Angela serves as the coordinator for the UCLA Mobile Clinic. This student run clinic, in collaboration with UCLA's public health, medical, law and undergraduate schools, serves the West Los Angeles homeless community. Angela's work with this project has inspired her to practice community medicine in the future.
With her determination and the help of her Elks scholar community, Angela is on the right track.
"Being an Elks scholar is like joining a community of like-minded young adults striving to become leaders," Angela explains. "This group truly is a valuable lifelong connection."
The ENF awards $500 Cornerstone Grants to Elks scholars who are interested in initiating or expanding a community service project. To find out more about Cornerstone Grants, visit www.elks.org/enf/elksscholars. To get involved with the Elks scholar community, become a fan of the Elks Scholar Facebook page by visiting www.facebook.com/elksscholars.
---
Back to top