A Second Family
Dennis Youngs started learning about the world of healthcare at a young age. His mother is a nurse, and he learned about the patient perspective after his father suffered a debilitating work-related injury.
"After my dad's accident, they were unsure if he would ever walk again, but with the work of an extremely talented surgeon, he was able to regain almost all mobility," Dennis says. "As a result, I was able to learn how to throw a football and ride a bike from my dad, just like every child dreams."
Inspired by the surgeon who saved his father's life, Dennis decided to pursue a career as a neurosurgeon. He was accepted to Syracuse University, where he double majors in biochemistry and neuroscience.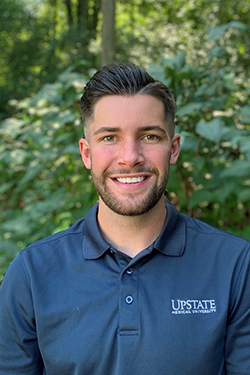 Although his father regained much of his mobility, the accident left him permanently disabled. Dennis' mother continues to work, and she is currently pursuing her master's in nursing leadership. The cost of attending his first-choice college continued to be a potential roadblock to Dennis' goals—so he turned to the Elks for an Emergency Educational Grant.
"It becomes very challenging to try to attend college with only one parent being able to work and with the cost of attendance continuing to increase," Dennis says. "Without the Emergency Educational Grant, there simply would be no way for me to attend Syracuse University."
The grant allowed Dennis to focus solely on his education. He has excelled beyond the classroom, too. He started a peer mentorship program with a local high school, through which college students share their experiences and guide high school students through the college application process. And, Dennis joined the Syracuse University Ambulance. As a member of the emergency rescue team, he learned not only how to deliver emergency care, but also leadership and teamwork skills.
"Dennis is a determined student who will become a great surgeon," says Dennis' mother, Lisa. "With [the Elks'] help, my son will be able to continue on in his journey to become a surgeon, and ultimately give another family the gift of life that has been given to ours."
Dennis' parents are dedicated members of the Penn Yan, N.Y., Lodge No. 1722. Dennis calls members of the Penn Yan Lodge his "second family," and his desire to go into the medical field stems from his time volunteering at the Lodge, too. He recently followed in his parents' footsteps and joined the Lodge.
"I have been fortunate enough to be on both ends of the Elks' generosity, from helping in community dinners to receiving an amazing scholarship," Dennis says. "I could not wait to transition from [youth] volunteer to active member."
The Lodge support network surrounding Dennis consistently reminds him of the number of people wishing to see him succeed. And he's well on his way—he was recently accepted to Upstate Medical University, where he will continue his education in the fall of 2020.
Dennis admits his future work as a neurosurgeon likely requires him to leave the physical boundaries of his small town behind. But he will take the values he learned from his tight-knit community and the Penn Yan Lodge into his work environment, especially while building trust and collaborating with patients.
"My community, especially the Elks, has taught me the most important life lessons," Dennis says, "like helping those in need, advocating for those who cannot, and the enormous amount of knowledge one can gain from others by talking less and listening more. Each and every patient needs to feel as though one is in a small community where each person is respected and valued."
For 2019-20, the Elks National Foundation allocated $288,210 to fund the Emergency Educational Grant program for children of deceased or totally disabled Elks. If you know any Elks children who may be eligible to receive an Emergency Educational Grant, encourage them to visit enf.elks.org/eeg for information, including eligibility and deadlines.
---
Back to top