A Network of Change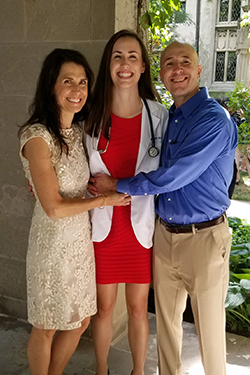 Maddi Bollig always aspired to be a doctor.
"As a kid, my mom would find me just looking through a little kids' dictionary, looking at body parts, because we didn't have any books on it," Bollig says. "I've always been interested in the body and how it works."
Bollig's childhood curiosity steered her toward medical school, but significant life experiences pushed her to study neurosurgery.
Bollig, a 2015 MVS scholar sponsored by Fort Collins, Colo., Lodge No. 804, nearly lost a family member to a ruptured brain aneurysm. Another experienced significant neurological side effects to a medication. And another couldn't look at Christmas lights without becoming ill following an accident involving a distracted driver.
Talented and innovative neurosurgeons saved and healed her family members with dedication, care, and their willingness to try experimental treatments.
Bollig graduated from Vanderbilt University in May 2019. She received a 2019 Gunther & Lee Weigel Medical School Scholarship and now studies neurosurgery at Northwestern University's Feinberg School of Medicine in Chicago, equipped with the textbooks and tools she dreamed about as a child.
"The Elks' investment in my education has served as a constant reminder that someone else believes in my dreams and my ability to improve our community," Bollig says.
Improving the communities she's a part of is one of Bollig's priorities for her time in medical school and for her future as a surgeon.
At Vanderbilt, Bollig was the service chair for a pre-medical honor society. She and other students volunteered at Room In The Inn, an organization offering services, including medical care, to individuals experiencing homelessness in the Nashville area.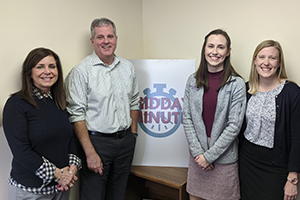 There, Bollig served in the foot care clinic where volunteers addressed the needs of individuals with medical conditions that affect the feet, like diabetes. It was here that she learned to look at medicine from a more holistic perspective.
"Healing is about so much more than science, and critically, it involves truly seeing people whom we seek to help," Bollig says. "I firmly believe that the best medicine cannot come solely in the form of a pill, but it must take the form of an interaction that dignifies and supports the patient—the person—in front of me."
Bollig's dedication to service hasn't subsided since she began her rigorous medical school schedule. As an Elks scholar, she feels embraced by a community that upholds the values she cherishes. Being a member of the #ElksFamily for Bollig means her service isn't singular; it is part of a network of change created by the Elks.
"When I serve, I am not working as an isolated individual, but instead as a part of a larger group that has an immeasurably greater impact in aggregate," Bollig says. "We are not merely hoping for a better future; we are actively carving out our new reality, contributing to the construction of more just and charitable communities."
Maddi recently visited the ENF office and appeared on the Midday Minute YouTube show! Check out her interview and learn more about her time in medical school.
After losing her husband, Gunther, to a staph infection in November 2009, the late Lee Weigel wanted to improve the quality of healthcare in our country. To realize that goal, she partnered with the Elks National Foundation to endow the Gunther and Lee Weigel Medical School Scholarship, which helps Elks scholars pursue careers in medicine. For more information, visit enf.elks.org/WeigelMSS.
---
Back to top