Finding Purpose
Safa Khawaja's interest in science began when she started taking medical STEM courses in high school.
"Doors are meant to be opened, and opportunities are meant to be chased," says Khawaja, a 2014 top 20 MVS scholar sponsored by Fort Worth, Texas, Lodge No. 124. She is also received a 2019 Gunther & Lee Weigel Medical School Scholarship "Growing up in an immigrant household inspired me to challenge myself academically and attend college to find my purpose."
But, she found her purpose long before she headed to college.
Inspired by her childhood pediatrician and driven by a desire to combine her love for biology with her passion for volunteerism, Khawaja started volunteering at Cook Children's Medical Center in her hometown of Fort Worth eight years ago.
It was her experience volunteering in the pediatric oncology unit that steered her toward a career as a physician.
In her role, Khawaja provided companionship to kids undergoing chemotherapy. She used her background in art to provide a way for the patients to express themselves and creatively pass the time during treatment.
"The young patients taught me to smile in the face of adversity. I learned how to be mature yet nurturing and understanding. Despite the number of art lessons I gave, the patients taught me the biggest lesson about my purpose."
Watching the resilience of the children who went into remission—and the journey of those who succumbed to their cancer—provided valuable insights for Khawaja.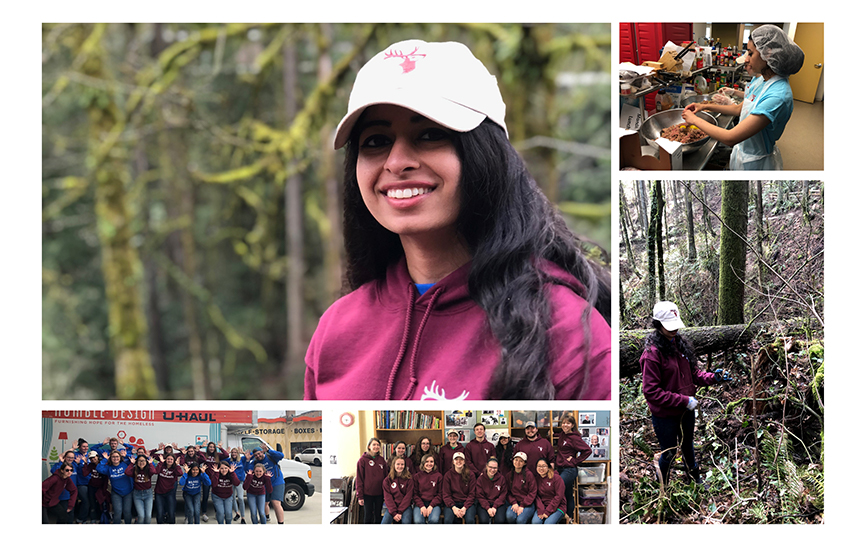 "It was a reminder that medicine is a journey, and physicians will have to be prepared for both the highs and the lows," Khawaja says. "My summer in the oncology unit taught me lessons that could not be found in a textbook."
Khawaja refers to the Cook Children's Medical Center as her second home. She plans to return to the hospital upon completing her medical degree.
"It would be exciting to make a different type of impact at the hospital," Khawaja says.
Khawaja graduated from Austin College in 2018 with a degree in biology and a minor in art. She now attends the University of North Texas Health Science Center– Texas College of Osteopathic Medicine, where she specializes in pediatric oncology.
Khawaja's eight years of service—during which she helped lead and organize fundraising events for low-income children to attend patient programs like specialized medical camps—coalesce with her service journey as an Elks scholar.
Khawaja attended the inaugural MVS Leadership Weekend in Chicago in 2014. It was there that she was "inducted into a wonderful and diverse community," she says.
"The MVS scholarship holds a lot more meaning than any other scholarship," Khawaja says. "Being a part of the Elks family means being a part of a network striving to change the world and make the community a better place to live. Being a part of the Elks family added a lot of value and pride to my educational journey as well as my personal journey."
That personal journey included participation in two Elks Scholar Service Trips. Khawaja attended the 2019 Spring Elks Scholar Service Trip in Portland, Oregon, and the 2019 Summer Elks Scholar Service Trip in Chicago.
"I am unsure who or where I would be without those irreplaceable experiences," Khawaja says. "[Elks scholars] share similar aspirations and push the boundaries of our impact beyond what was thought possible. We all strive to make a difference in our community and beyond through involvement with non-profits, community projects, and much more."
Check out films from the 2019 Summer Elks Scholar Service Trip in Chicago and learn more about Safa below.
After losing her husband, Gunther, to a staph infection in November 2009, the late Lee Weigel wanted to improve the quality of healthcare in our country. To realize that goal, she partnered with the Elks National Foundation to endow the Gunther and Lee Weigel Medical School Scholarship, which helps Elks scholars pursue careers in medicine. For more information, visit enf.elks.org/WeigelMSS.
---
Back to top