Sean Pringle Stacks Elks Scholar Accolades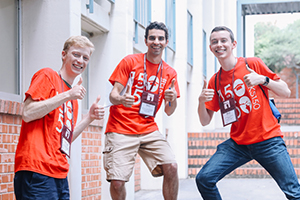 In a thank-you video submitted to the Elks National Foundation, after he joined the Elks family as a 2010 Most Valuable Student scholarship recipient, Sean Pringle pledged to join the Elks one day.
That day came in 2015 when he joined his sponsoring Lodge, Oceano/Five Cities, Calif., Lodge No. 2504. In 2019, he's earned another accomplishment as an Elk and an Elks scholar.
"I am humbled to be named the Alum of the Year because I've met many past recipients and they are such outstanding leaders who are doing remarkable things and using their talents to help shape the world," Sean says.
Sean continues charting his own course in Elks scholar history as a nonstop advocate for the Foundation. In 2010, as a freshman at Cal Poly San Luis Obispo, Sean was selected for the Scholar Advisory Board and returned year-after-year. While earning both his bachelor's and master's degrees in civil engineering from the university, Sean put his newfound knowledge to use as he built a bridge between Elks scholars and Lodges, including his sponsoring Lodge, Ocean/Five Cities, Calif., Lodge No. 2504. These connections lead to Sean's next journey into Elkdom.
"After serving on the advisory board, going on service trips and seeing all the projects the Elks were doing, it really inspired me," Sean shares. "So, I joined the Lodge."
When Sean officially joined the Elks in 2015, he threw himself into volunteering, just like he'd done as a scholar. Sean's roots as a scholar are embedded in his identity as an Elk. He's served as both the Lodge and District Scholarship Chair for the past four years.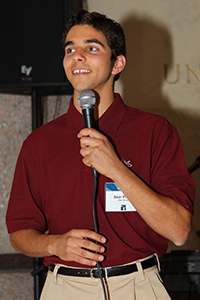 "As a scholarship recipient, I gravitated toward our youth programs and scholarships," Sean says.
Sean has become a steadfast buoy between Elks scholars and his Lodge, anchoring them to a common cause: to serve, learn, and connect with their community. He does so by encouraging scholars to get involved in opportunities like the Elks Scholar Speaker program and motivating Lodges to host them.
"I think the most important thing Elks can do after supporting an Elks scholar going off to college is to continue to remain involved with that scholar during their college years and beyond," Sean says.
While the Elks helped make Sean's dream of becoming a civil engineer come true—he's currently a Journey Engineer at the Pacific Gas and Electric Company—he continues doing the same for Elks scholars and future generations of Elks. Sean encourages all scholars to get connected.
"Nearly every college has other Elks scholars and an Elks Lodge nearby," Sean points out. "Meeting fellow Elks scholars also allows you to build friendships since every one of us has at least one common tie—our scholarship."
It's no surprise that what Sean enjoyed most about being an Elks scholar was spending time at his sponsoring Lodge during college breaks.
"There's a motto I loved learning back when I first started working on the Scholar Advisory Board," Sean shares. "We were told Elks Lodges are places where 'neighbors come together, families share meals and children grow up.' As an Elks member, this statement speaks so true to our Order."
Sean is also helping youth in his community in other ways. Each Alum of the Year is awarded a $500 grant to the charity of their choice, and Sean has chosen the Purple Pig, California-Hawaii Elks Association's major project aimed at addressing the unmet needs of children with disabilities. The organization resonates beyond their shared location in California.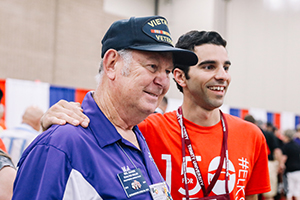 "The therapists who are a part of the Purple Pig transform the lives of the children they help," Sean explains. "I also have a personal connection to this program because I spent multiple years as a child with a speech therapist who gave me the ability to speak more clearly and with a greater sense of confidence and comfort."
Sean has grown from a high school student volunteering with the Elks to becoming an Elks scholar himself. Now, as an Elk, he's humbled to be chosen as the Alum of the Year.
"I could go on to say so much more about the Elks, but I'll simply end by saying thank you to the ENF and the Order for allowing me to become a part of such a beautiful family," Sean shares. "I look forward to continuing to provide service to my community, and to the Order, as an Elks scholar and an Elks member."
In 2019-20, the Elks National Foundation will award $4.1 million in college scholarships, ensuring a bright future for our nation's youth. As important members of the Elks family, Elks scholars have many social and service opportunities to connect with the Elks and one another.
---
Back to top