Future Forces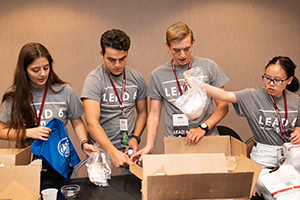 Twenty-five thousand applications became 20. Future doctors, researchers, engineers, scientists and leaders, they converged on Chicago from April 11 to 14 for the sixth annual Leadership Weekend. Their backgrounds were diverse, but they all had in common sharp minds, bright futures, and deep commitment to service and community.
From the 20, six top scholars emerged, and from those six, our two $50,000 Most Valuable Student scholarship winners: Tabitha Escalante, sponsored by Maumee-BG, Ohio, Lodge No. 1850, and Victor Ramirez, sponsored by South Miami/Coral Gables, Florida, Lodge No. 1676. These are their stories.
A Voice of the Future
"She's the type of young woman we would all want our daughters to grow up and become," says one of Tabitha's teachers, "and she's served as a wonderful role model for mine."
In the fall, Tabitha will bring a powerful voice, relatable story, and fierce determination to Harvard University, where she'll study Government. Eventually, she plans to go to law school.
"My goal is to seek justice for every individual while working to reform practices and institutions that disproportionately affect people of color in our country," Tabitha says. "I also plan to pursue legislative policies that will allow me to support and empower underrepresented minorities."
Tabitha's mother worked three jobs to save enough money to move her family to a small town with a better public school system and the promise of more opportunities and advantages. But transitioning to a new school proved difficult. Tabitha was different.
"I desperately wished to be seen as more than an extraordinary product of my unfortunate circumstances," Tabitha says.
She missed living in a city where seemingly everyone was working to overcome a disadvantage and no one was defined by the way they lived, the structure of their family, or the color of their skin. But she soon realized the move was a blessing designed as temporary turmoil.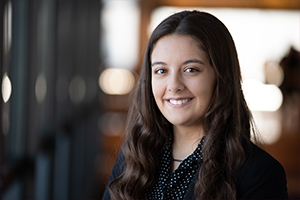 "It gave my dream to empower struggling communities a new sense of focus," Tabitha says.
As Tabitha continues to rise through her studies and, one day, through her inevitable career as a lawyer, she wants to speak for disenfranchised families and marginalized groups. She will continue speaking out against injustice, like she did when she organized the March for Our Lives protest, which was attended by approximately 200,000 people. She will continue to use her voice to fight silence.
Tabitha never expected to graduate high school, let alone win the top Most Valuable Student scholarship or be admitted into a top college. But now, she's accomplished all three.
"I'm sincerely grateful for the opportunity to join an amazing network of young leaders from all over the country," she says.
A Calculated Gamble
Like millions of others who came before them, the Ramirez family immigrated to America to give their children more. They left Cuba and resettled in Florida to raise their son Victor.
"My family taught me never to take what life gives me for granted and to be thankful for what I have," Victor says. "I have implemented this philosophy into my academics and community involvement."
In four years at the School for Advanced Studies, Victor accrued more than 117 college credits, logged nearly 1,200 hours of volunteer work, and graduated in the top 1 percent of his class. He also worked in his free time to help his mother support two children and her husband—Victor's stepfather left work to care for his ill father.
"My family came to this country to give me a chance they never had," Victor says.
And now, he's the top male Most Valuable Student.
"I believe I've made the most of that chance," Victor says.
He will carry confidence and a strong personality and work ethic to New Jersey when he begins studying Mathematics at Princeton in the fall. He plans to pursue a doctorate in Experimental Physics.
But first, he'll spend the summer volunteering at the League Against Cancer, a nonprofit that specializes in cancer treatment for individuals without healthcare. Victor chose this organization because it accepts all patients, regardless of their race, creed or nationality.
Victor hopes to continue his interest in science by eventually conducting research into physical phenomena, developing theories based on observation and experiments, and devising methods to apply physical laws and theories.
"I want to advance the world of science to where we can explain the phenomena of the world and of the universe," Victor says.
"What makes a student valuable is their work ethic and success," he reflects "I have much to show for that."
His parents left their home to give their kids a better chance. Victor made the gamble pay off. And now, he hopes to do the same for the Elks.
For 2019-20, the Elks National Foundation allocated $2.9 million to fund the Most Valuable Student scholarship program, which includes 500 four-year scholarships ranging from $4,000 to $50,000.
---
Back to top