The Super Sixth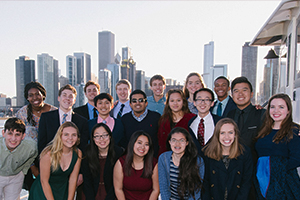 We are delighted to announce the Top Finalists from the 2019 Most Valuable Student scholarship class! These finalists will join us for the sixth annual MVS Leadership Weekend on April 11-14, 2019, in Chicago.
Over the course of the weekend, the finalists will enjoy breakfast with the Elks National Foundation's Board of Directors, participate in workshops for leadership development, serve with our nation's veterans, sail away during a dinner cruise on the Chicago River, and engage in interviews to determine who the top winners will be in this year's MVS contest.
Each student attending the Leadership Weekend will receive a scholarship of at least $20,000 to support their college dreams. Following interviews with the national judges, two scholars will walk away with third place awards of $30,000, two will get $40,000 in funds to support their education, and the top two winners will receive $50,000 each.
Congratulations to the Top Finalists!
Anthony Bui
Sponsored by Garden Grove, Calif., Lodge No. 1952
Aneekah Uddin
Sponsored by Cedar Grove, N.J., Lodge No. 2237
Brock Elbert
Sponsored by Indianola, Iowa, Lodge No. 2814
Ann Raymer
Sponsored by Farmington, Mo., Lodge No. 1765
Jake Mann
Sponsored by Fort Myers, Fla., Lodge No. 1288
Camryn Franke
Sponsored by Minneapolis, Minn., Lodge No. 44
Matthew Humphreys
Sponsored by Jackson, Ohio, Lodge No. 466
Emily Sanchez
Sponsored by Longmont, Colo., Lodge No. 1055
Michael Fairbanks
Sponsored by Mesa-Buckhorn, Ariz., Lodge No. 2656
Funda Eskalen
Sponsored by Zephyrhills, Fla., Lodge No. 2731
Michael Tran
Sponsored by Beaumont, Texas, Lodge No. 311
Regina Sung
Sponsored by El Paso, Texas, Lodge No. 187
Minh Phuc Tran
Sponsored by Louisville, Ky., Lodge No. 8
Sarah Shirley
Sponsored by North Little Rock, Ark., Lodge No. 1004
Rio Bonham
Sponsored by Durant, Okla., Lodge No. 1963
Sophie Liu
Medford-Malden, Mass., Lodge No. 915
Seamus Hoolahan
Sponsored by Anaconda, Mont., Lodge No. 239
Tabitha Escalante
Sponsored by Maumee-BG, Ohio, Lodge No. 1850
Victor Ramirez
Sponsored by South Miami/Coral Gables, Fla., Lodge No. 1676
---
Back to top