Over and Out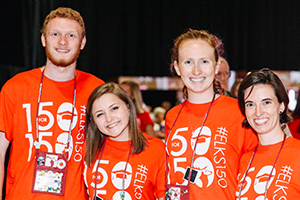 We might not be connected by blood, but the Elks family cares for one another as if we were. The Elks scholars and alumni are a part of the Elks family. We celebrate their accomplishments and successes like a family would. We've watched Elks scholars move on to start nonprofits, run corporations, and, most recently, win national awards.
Megan Cain joined the Elks family when she received a Most Valuable Student scholarship to attend the University of North Carolina in 2015. Fast forward to today, the broadcast journalism major is a rising radio journalism star.
The Hearst Journalism Awards Program gives scholarships to students for outstanding performance in college-level journalism. Megan submitted three radio segments to the 2018-2019 radio news and features competition; not only did she take home the first place award, a $3,000 scholarship and $3,000 grant to her university, but she's moving on to the National Radio Championship in June 2019.
"In the world of college journalism, this is like our Pulitzer," Megan shares. "I'm pretty excited about it."
Coming from a family of teachers, Megan has always had a passion for learning and teaching others. Her yearning to change the world drew her to UNC's journalism school.
"I got involved with the broadcast side of things because I felt like it allowed me to gain a lot of valuable technical skills," Megan says.
The MVS scholarship provided Megan with financial stability she needed "to take advantage of every opportunity thrown my way"—none of which she took for granted. She was also one of the 150 Elks scholars who attended the 150 for 150 Service and Celebration Weekend at the 2018 Elks National Convention in San Antonio. That trip solidified what Elks family means to Megan.
"I knew the Elks were a huge organization, but it really sunk in while I was in San Antonio," Megan says. "I felt so proud to be included in such a strong and compassionate community."
Megan's involvement with the Elks even served as inspiration for her radio story, "Beyond the diagnosis: Durham V.A. uses oral histories to personalize care for veterans." She wanted to witness how big of an impact the V.A. has in helping veterans, and she got out of the experience more than she expected.
"I loved all the interactions I had at the V.A. because everyone was super welcoming and open to me," Megan recalls. "It's definitely a story that I'm proud of and one that reminds me why I love telling people's stories so much."
Megan has high ambitions for herself and her future. As a member of the next generation of journalists, Megan hopes to lead the charge in finding new ways to effectively combine communication and technology to "tell the stories of everyday people."
The Elks are helping make dreams come true for scholars like Megan, an opportunity she says she'll never forget.
"Thank you for welcoming me into this community with open arms," Megan shares. "I will be forever grateful to the Elks."
Listen to the stories Megan wrote, including a veteran-centered story, at the links below:
"Beyond the diagnosis: Durham VA uses oral histories to personalize care for veterans"
"Underground predators: Technology helps scientists track some of the state's most elusive species"
"OWASA looks for the cause of massive 9.4 million gallon water leak"
For 2019-20, the Elks National Foundation appropriated $4.7 million to fund ENF scholarship programs, which ensure a bright future for our nation's youth. As important members of the Elks family, Elks scholars have many social and service opportunities to connect with the Elks and one another. For more information about our scholarship programs, and for ways Lodges can get involved with Elks scholars, visit elks.org/scholars.
---
Back to top