Painting the Town Pastel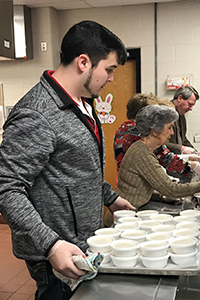 Easter is a holiday that symbolizes hope and renewal, the start of a new life. It's a time meant for families to be together, paint Easter eggs and enjoy the spring weather. But not every family can celebrate Easter the way it's meant to be celebrated.
Austin Cusick wanted to change that in his community, Ohio River Valley, Ohio. Austin received a Legacy Award in 2013, making him eligible to apply for the $500 Cornerstone Grant. This is the second time Austin has received the grant; his first project provided gift bags for veterans in a nursing home.
This year, he hosted a spring dinner for students who participate in an after-school program at Bellaire Middle School, which he attended.
"My goal with this project is to provide a time for these students facing disadvantages to build bonds and come together to create a meal for their family," Austin says.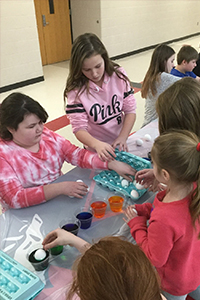 In addition to the dinner, the families participated in all the Easter activities you can imagine from egg hunts to coloring.
"Many of these students struggle to have meals beyond school, and even more struggle to have close relationships with their parents," Austin shares. "This can negatively impact the future of these children, and I want to help make sure that doesn't happen."
Austin hopes he created a positive memory for the students and their families through his dinner. His parents and grandparents support his vision through their Lodge, which also sponsored Austin's scholarship, Ohio River Valley, Ohio, Lodge No. 231. Not only have Austin's projects brought him closer to members of his family's Lodge, but they've created a bond between him and the Elks National Foundation.
"Having the ENF as a partner allows me to perform this work and shows me that I'm supported by a foundation that has the same motives I do," Austin says. "This partnership has allowed me to create an impact on my community that it may have never seen otherwise."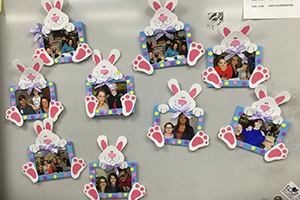 Austin will continue changing lives for the better as he studies pre-medicine at West Liberty University. We're not sure what Austin will do next to build a stronger Elks community, but we know it will be worth the investment.
For 2018-19, the Elks National Foundation appropriated $4.6 million to fund ENF scholarship programs, which ensure a bright future for our nation's youth. As important members of the Elks family, Elks scholars have many social and service opportunities to connect with the Elks and one another.
---
Back to top