Cornerstone Project Schools Third Graders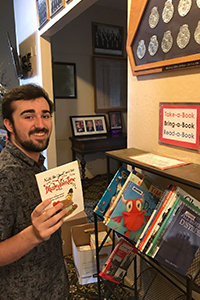 You may think that no one year in schooling has a greater impact on students than the rest, but that's not the case. Research has shown that the third grade is the most important year for students because it's when they advance from "learning to read" to "reading to learn." A study from the Annie E. Casey Foundation, which focuses on improving the well-being of American children, showed that students who fail to read proficiently by the end of third grade are linked to ongoing difficulties in school and failure to graduate.
With this statistic in mind, 2017 Legacy Scholar Ryan Traynor, sponsored by his father's Lodge, Redwood City, Calif., Lodge No. 1991, was alarmed to learn that more than 50 percent of third-graders in his county were not proficient in reading. He saw the effects of this settle into his community through an increase in gang involvement and lower graduation rates, so he acted.
"To counter what was happening in my community, I started the Youth Literacy Council five years ago, which creates projects meant to increase literacy," Ryan says.
Recently, Ryan created a new project called Take a Book, Bring a Book, Read a Book that started with a book drive. He had no idea how successful the book drive would be until he collected 35,000 books, which meant he was going to need some help in storing and distributing the books. Ryan applied for and received a $500 Cornerstone Grant from the Elks National Foundation to house and distribute the books at his local Lodge.
"Literacy has been my passion for the past five years," Ryan shares. "After volunteering at the local library and reading to preschool students once a week, I saw firsthand how books can transform young children into hopeful, creative youth."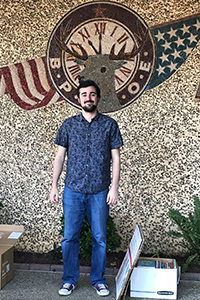 This summer, Ryan will use a community room at the Lodge to store his books. While he's on lifeguard duty at the Lodge's pool, he will bring the books to the patrons at the pool to instill a love of reading in kids, Elks and community members alike.
"Elks build stronger communities, and this project addresses the primary weakness within my community—illiteracy," Ryan says. "The project builds future leaders as we work with the Youth Literacy Council to teach them lifelong skills."
Although Ryan is a full-time student at the University of Southern California, where he's studying business administration, he plans to spend his next two summers dedicated to spreading the gift of reading to his community—one book taken, one book brought, and one book read at a time.
For 2018-19, the Elks National Foundation allocated $1.4 million to fund 300 Legacy Awards scholarships for the children and grandchildren of Elks. If you know any Elks children who are high school seniors, encourage them to visit enf.elks.org/leg for information, including eligibility and deadlines.
---
Back to top