Get to Know Gandhi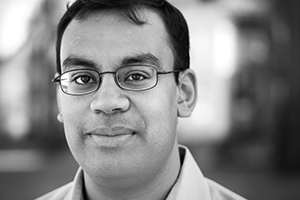 If each person's life were a glass that was filled by the moments we touched a heart, mended a wound or changed a life, then 2003 MVS scholar Shaan-Chirag Gandhi's glass would be spilling over. Soon, he'll complete his residency in internal medicine and become a physician at Massachusetts General Hospital. Gandhi is also pursuing venture capital in therapeutics and medical devices to forge his legacy in healthcare and add to his life's glass.
"It's rare in a profession to see someone's life change before your eyes for the better," says Gandhi, "In medicine, I am fortunate to have that experience on almost a daily basis."
Fifteen years ago, Gandhi applied for the Elks National Foundation's Most Valuable Student scholarship through the Battle Creek, Mich., Lodge No. 131. He wanted to pursue a career in medicine but didn't have the financial support to do it alone.
"The Elks National Foundation gave me an amazing opportunity to learn and become passionate about medicine and healthcare," Gandhi says. "My subsequent accomplishments in the clinical, volunteer and organizational settings are a direct result of that gift."
Gandhi used his MVS scholarship toward attending Case Western Reserve University in Cleveland—a school that coupled a strong emphasis on scientific research and innovation with a small undergraduate population that allowed Gandhi to make the personal connections he wanted with his peers and professors.
While pursuing a Bachelor of Science in biochemistry and a Bachelor of Arts in chemistry, Gandhi submitted an honors thesis on the protein structure of a viral protein, which could assist in developing new vaccines. Due to his innovation, Gandhi was awarded the Harland Wood Prize, which is the highest undergraduate award that the Department of Biochemistry gives.
But Gandhi's accomplishments as an undergraduate student didn't stop there; he wanted to do more. To give back to his community, Gandhi led an organization called the Global Medical Initiative, which aimed to collect surplus medical supplies from Cleveland-area hospitals and donate them to hospitals and clinics in need overseas. "I volunteered extensively at area hospitals," Gandhi says. "By giving back to my community, I realized that healthcare was the area where I wanted to make an impact in my life."
Gandhi graduated from Case Western Reserve University summa cum laude in both biochemistry and chemistry. He went on to receive the esteemed Rhodes Scholarship, which allowed him to study cancer stem cell biology while pursuing a Doctor of Philosophy in Medical Oncology at the University of Oxford. During his time at Oxford, Gandhi's commitment to use healthcare to improve the lives of the less fortunate deepened. While leading Student Action for Refugees, Gandhi worked closely with nonprofit organizations to assist asylum seekers and refugees with accessing community resources, job search assistance and healthcare in Oxford and London.
Just like before, Gandhi's experience at Student Action for Refugees left him wanting to do more. He became a leader in Oxford Citizens, a community organization that unites multiple nonprofit and voluntary groups to advocate for community reforms such as housing, food security and employment rights. After gaining experience in the nonprofit sector, Gandhi knew it was time to create one of his own, and this time, he was going global.
Alongside four classmates, Gandhi co-founded Health2Home, a maternal- and child-health healthcare nonprofit that connects pregnant women and women with young children to healthcare services within their communities in Uganda. Today, Gandhi serves as the managing director of Health2Home. They're currently working on helping patients receive healthcare notifications and reminders via text message to patients in rural areas who don't have reliable access to medical information.
When Gandhi returned to the United States in 2015, he attended Harvard College's business and medical schools. In addition to a demanding curriculum, Gandhi continued to serve his new community in Boston. He volunteered with the Health Professions Recruitment and Exposure Program, which introduces high school students to science and technology and then assists them in pursuing careers in those fields.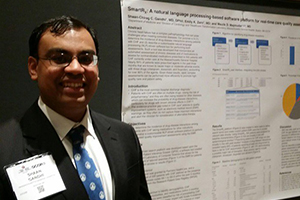 Not only did Gandhi assist, but he led within several organizations at Harvard, including: the Massachusetts Medical Society, the American Medical Association, and the American College of Physicians where he led multiple efforts on the state and federal levels to ensure all Americans have access to quality healthcare.
Along with the ENF, Gandhi credits his success to his mentors who provided the education and training Gandhi has needed to treat his patients. He continues paying his good fortune forward to others by working and connecting with Elks scholars and serving on the review committee for the Gunther and Lee Weigel Medical School Scholarship.
"Given how instrumental the ENF was in my education and early career, I knew that part of giving back to my community should involve working with other Elks scholars to help them with their educational and career goals," Gandhi says.
His dedication to help spans from Elks scholars to the world. Gandhi has never lost sight of his mission to heal as many people as he can. He hopes to be the catalyst to a generation of medicine, devices and medical tools that can treat the untreatable diseases.
"Venture capital gives me the chance to multiply the work of hundreds of scientists to create the drugs and devices society needs to solve the most bedeviling of diseases," Gandhi says.
Gandhi is grateful for the support he has received in making his goals a reality and turning his passions into his life's work. We're grateful to have Gandhi in the Elks family, and we can't wait to see how he changes the world next as the 2018 Elks Scholar Alum of the Year.
Each Alum of the Year receives a $500 grant from the ENF, which Gandhi will donate to the Boston Healthcare for the Homeless Program, an organization based in Massachusetts General Hospital that's dedicated to caring for the homeless and destitute citizens in Boston.
To read Gandhi's profile from his time at the Harvard Business School, click here.
For 2018-19, the Elks National Foundation appropriated $4.6 million to fund ENF scholarship programs, which ensure a bright future for our nation's youth. As important members of the Elks family, Elks scholars have many social and service opportunities to connect with the Elks and one another.
---
Back to top