California, There We Went!
"The week was incredible," reflected 2017 MVS scholar Marc Rademaker. "I learned about the effects of homelessness and got to serve those experiencing it. I was able to find common ground through conversation with each individual I served, making me more appreciative of opportunities in my own life and more driven to serve others in the future."
Twenty Elks scholars from 13 states started the new year off strong by serving the City of Santa Monica in the name of the Elks. Elks Scholar Service Trips provide the opportunity for scholars to come together in service with their Elks scholar peers. On the Winter Service Trip, scholars focused on serving individuals experiencing homelessness and veterans.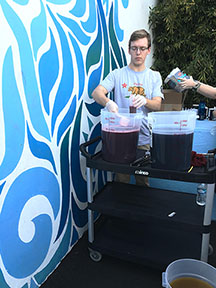 Service ranged from providing a meal to youth living on the streets, to distributing food and clothing to veterans in need. Scholars engaged in indirect service, such as cleaning a housing site for young mothers experiencing homelessness, as well as direct service, like playing bingo with veterans. Each service site educated the group on causes of homelessness and explained how the scholars can perpetuate change.
"We saw first hand the extent of problems in the area and directly served populations in need," shared 2013 MVS scholar Justin Schulberg. "Our group of Elks scholars formed close connections and enduring friendships, all thanks to the ENF and the support of the Elks!"
The local Lodges welcomed the scholars with open arms and provided abundant hospitality. Westchester Lodge No. 2050 treated the scholars to spaghetti and a tour of their beautiful building. Westchester Elks also surprised the scholars with In-N-Out burgers at the hostel where they were staying. Gardena Lodge No. 1919 delivered dinner mid-week and shared about the rich history of the Elks. Santa Monica Lodge No. 906 capped off the trip with a taco dinner and a short tribute to veterans.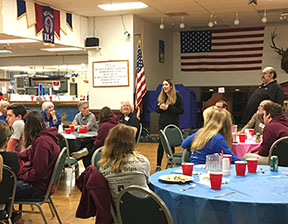 "The Elks Scholar Service Trip visit was by far one of the biggest highlights of my Elks career," shared R.A. Pickett, a member of the Santa Monica Lodge. "I encourage any Lodge in the country to get involved with the service trips and to get scholars into your Lodge with your members." The scholars ranged from freshmen to recent graduates, from science majors to artists and from New Yorkers to Californians, but they left as Elks family.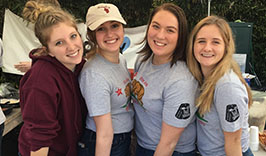 "These are my people," reflected 2017 Legacy scholar Keegan O'Ravez. Many of the scholars have plans to reunite at 150 for 150 this summer in San Antonio, meet up with other scholars on their campus, and to one day join the Order.
Click here to view photos from the trip.
---
Back to top