The Buness Bridge to Elkdom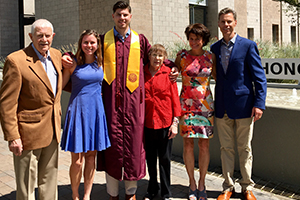 In a town like Wrangell, Alaska, with a population of a little over 2,000, it's easy to find a place where everybody knows your name, your family and who you are. For the Buness family, that place was Wrangell, Alaska, Lodge No. 1595.
Although Areta and Gage Buness didn't grow up in Wrangell, many of their childhood memories are from summer vacations to Alaska where their father took them to the Lodge. Their grandfather has been an active member of the Elks since 1952, along with many other members of their family and the community.
"I've always been impressed with how many of my family members and locals in Wrangell are Elks members who take turns to volunteer their time," Gage says.
Gage, his sister Areta, and their cousin Alex received Legacy Awards scholarships from the Elks National Foundation. Both Gage and Areta credit their grandfather for instilling in them the principles to excel in school, participate in their community and achieve great things.
"I'm proud that I can share being an Elks scholar with my brother and one of my cousins, and I know that it means the world to my grandfather to know that his grandchildren are continuing his legacy of community leadership," Areta says.
Areta is a 2015 Legacy scholar and the youngest of the Buness scholars. She's studying biology at Stanford University where she's also a member of the Varsity women's lacrosse team. Gage is a 2013 Legacy scholar who's currently receiving his master's degree in Science of Health Care Delivery at Arizona State University with plans to apply to medical school. And their cousin Alex is a 2011 Legacy scholar who studied at Brigham Young University – Hawaii.
"With the help of the Legacy scholarship, and my own personal savings, I was able to accomplish my goal of graduating from BYUH completely debt-free," Alex says.
In addition to lifting the burden of college tuition, the Legacy Awards scholarship opened the Buness' to volunteer opportunities within Elks' communities. Areta volunteered at Phoenix, Ariz., Lodge No. 335 where she worked on local events, and Gage hopes to return to the Elks as a member one day—after he finishes medical school. Safe to say, this isn't the last we'll be hearing about the Buness family in Elkdom.
For 2017-18, the Elks National Foundation allocated $1.2 million to fund 300 scholarships for the children and grandchildren of Elks. If you know any Elks children who are high school seniors, encourage them to visit enf.elks.org/legfor information, including eligibility and deadlines.
---
Back to top