The Roper Tradition Tied to the Elks
It's not every day that an Elks scholar becomes a third-generation Elks member. Or is initiated by the same man as his father.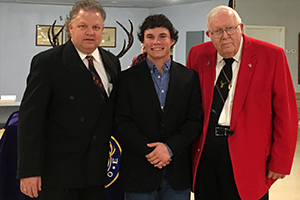 Since he was a teenager, Aden Matthew Roper—an Emergency Educational Grant recipient—knew he wanted to join the Midwest City, Okla., Lodge No. 1890, and he knew he wanted his grandfather—Past Exalted Ruler Jack Monroe Roper, or "Poppy" as his family calls him—to be the one to initiate him.
"It was kind of a deja vu moment during initiation because we had always talked about it and then it actually happened," Aden says. "It's a great memory to look back on and see how far I've come in life."
Aden knows he would not be the person he is today without the love and support of his grandparents. He was fortunate to grow up surrounded by family in Mustang, Oklahoma. His mother always told him he had three places to call home: his parents' and grandparents' houses, and the Lodge.
"Some of my favorite childhood memories are from when I would help my grandmother fry outrageous amounts of her famous fried chicken at the Elks Lodge," Aden says.
Not only were the Elks an integral part of Aden's childhood, they also helped him find his passion in life. During high school, he attended the Oklahoma Cadet Lawman Academy, a weeklong highway patrol academy supported by the Oklahoma Elks Association.
"Before I attended the academy, I wanted to be a machinist," Aden says. "The Cadet Lawman Academy had a huge impact on my life that week."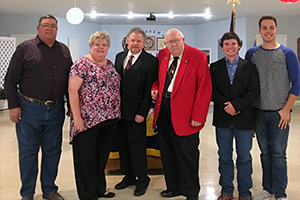 Receiving an Elks scholarship allowed Aden to follow his dream to become a police office. He's a junior in college studying Criminal Justice at East Central University in Ada, Oklahoma.
"It amazes me how the Elks have continuously blessed my life," Aden says. "Being an Elks scholar has made my college experience much more enjoyable because I have gotten to enjoy college without some of the stresses that most students experience."
Now that Aden is a member of his Lodge, along with five relatives who were also initiated by Aden's grandfather, he looks forward to becoming a positive influence on his community.
"As an Elk, I will have connections within the community other police officers will not have," says Aden. "Children and adults need to see that police officers are regular people, just like everyone else, and I think that being an Elk will help me prove that by giving me greater opportunities to better protect and serve my community."
The Elks have been around for 150 years, and the Roper family has been a part of the celebration for almost a third of those years. We look forward to watching the Roper legacy live on.
In 2017-18, the Elks National Foundation allocated $323,890 to fund the Emergency Educational Grant program for children of deceased or totally disabled Elks. If you know any Elks children who may be eligible to receive an Emergency Educational Grant, encourage them to visit enf.elks.org/eeg for information, including eligibility and deadlines.
---
Back to top