Much More than a Scholarship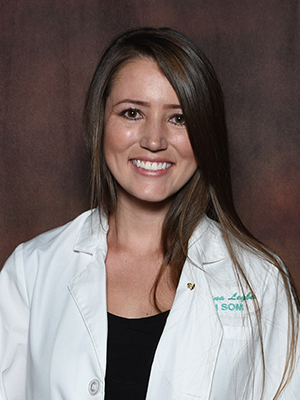 Katarina Leyba, a 2012 Most Valuable Student scholar, recently graduated from the University of New Mexico with degrees in Biochemistry & Health and Medicine & Human Values. She plans on continuing her academic pursuits at the University's School of Medicine, with a focus in Neurology.
In addition to receiving several academic honors, her list of social action and volunteer initiatives is impeccable. Katarina has been volunteering at the Children's Hospital of the King's Daughters for the past few years, interacting with patients and comforting them during their stay. She continues to show her compassion by volunteering with the American Cancer Society, Joy Junction Homeless Shelter, and co-founding the Autism Society at the University of New Mexico. She is no stranger to a busy schedule, and the list goes on regarding the different groups she is involved with. Despite all of this, her interest in pursuing a career in Neurology is her main focus and stems from personal experience.
Katarina shares her story of why she is interested in diving deeper into the mysteries of mental illness and all that they entail. She begins with sharing how her aunt was diagnosed with Paranoid Schizophrenia in 1980, and her grandmother with Alzheimer's disease in 2009. Seeing the destructive nature of these diseases on her loved ones' lives has triggered her interest to learn more about them. She hopes to one day be able to not only delve deeper into mental illness, but be an advocate for individuals affected by them when they may feel like they are alone.
Reflecting on how being an Elks scholar helped her grow and flourish during her undergraduate career, Katarina shares, "the Elks community is a center of scholarship and integrity, and the opportunity to immerse myself in that community enhanced my collegiate academic and social experience."
The scholarship was important to her because it allowed her to focus on bettering the community within and outside of her university. It gave her the opportunity to connect with other Elks scholars on campus, and propagate the generosity that she had encountered through the organization in a larger setting.
"For me, my MVS scholarship represented much more than a scholarship," Katarina reflected. "Being an Elks scholar is about believing in and exemplifying ideals that are larger than yourself. It is a collective commitment to community and scholarship. It is participating in a network of altruism and support. Most importantly, it is giving back."
---
Back to top