2017 Most Valuable Student Top Winners
Bright and early one Saturday morning this past April, 20 high school students woke up in Chicago after a of day deep dish and fun, put on their best, and headed out to interview for the top scholarship at the fourth annual Most Valuable Student Leadership Weekend.
Facing three judges for a 20-minute interview as an 18-year-old—all with $50,000 on the line? Sounds stressful. But Elks National Foundation Director Jim O'Kelley insists it's the judges doing the sweating.
"These students are outstanding, high achieving kids," says O'Kelley. "The hardest part is being those judges, sitting down and figuring out who is the most outstanding."
Though every student walked away with at least $20,000, Zoi Urban, sponsored by Santa Maria, Calif., Lodge No. 1538, and Colin Norick, sponsored by Kalispell, Mont., Lodge No. 725, both won the top $50,000 scholarship.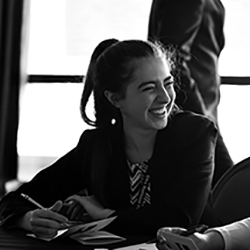 Zoi is taking her talents across the country to either Harvard, University of Pennsylvania or Brown, where she hopes to turn her passion for service and leadership into a career helping students from low-income backgrounds.
"I come from a lower-income community—my freshman year I went to a private high school, and transitioning to a public high school my sophomore year allowed me to see the difference in opportunities students are given," says Zoi. "I'm interested in starting a non-profit that's centered in helping foster students and homeless students achieve their full potential."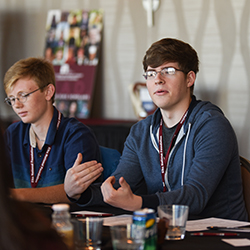 Colin's remarkable story of resilience started when he was diagnosed with severe autism at a very early age. Through years of intense therapy and the help of his family, Colin is now in a position to move on to college—he's headed to Stanford to study cognitive and computer science, with the hope of focusing on artificial intelligence. He's also in a position to give back.
"The world has given me a chance to give back, and I want to seize that opportunity with both hands to make a change in the world," says Colin. "For me personally, the Elks have reinforced a message of positivity, community involvement and personal growth."
Zoi and Colin will join the Elks National Foundation in Reno at the Grand Lodge Convention to share their stories. With their journey into college and beyond just starting, their new #ElksFamily will be there for support every step of the way.
Watch Colin and Zoi's introduction films from the Elks National Convention below.
For 2016-17, the Elks National Foundation allocated $2.75 million to fund the Most Valuable Student scholarship program, which includes 500 four-year Most Valuable Student Scholarships. For more information about the Most Valuable Student scholarship program, including eligibility and deadlines, visit enf.elks.org/MVS
---
Back to top