The Service Trip Goes Home
Fifteen Elks scholars traveled from all over the United States to serve the City of New Orleans in the name of the Elks from March 12-18, 2017.
Although some scholars attended school only 20 minutes away from each other, none of them had met before. However, by the end of the week, the group embodied the meaning of #ElksFamily. From working hard at service sites each day to engaging in reflection each night, the scholars learned about themselves, one another and the Elks through service.
For this trip, they partnered with Camp Restore, an organization created in response to Hurricane Katrina. Camp Restore has more than 80 partner organizations throughout the city. The scholars started and ended their week serving in a community garden that employs previously incarcerated youth. They pulled weeds, sifted soil, built herb garden and flower bed structures, hung shade cloth, planted vegetables, and cleaned and packaged produce.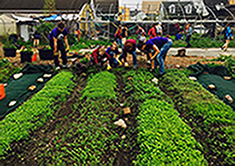 After spending time learning how to grow food, the group volunteered the next day in a food pantry. Men and women from all over the city who were experiencing poverty, or who had been affected by a recent tornado, came to shop for groceries at the Giving Hope Food Pantry. Scholars stocked shelves, distributed food and carried boxes out to cars, while engaging in conversation with community members.
One of the service sites was totally unique to New Orleans. The scholars served at a bead center that recycles and repackages tons of Mardi Gras beads each year. The center employs adults with developmental disabilities and the money made from reselling the beads supports their salaries.
After full days of service, scholars enjoyed some afternoon free time to gather together and play cards. In the evenings, everyone enjoyed authentic Cajun food and ended the days engaging in group activities and reflection.
To better understand and appreciate the culture they were serving, the scholars also took a half-day to see the city. PGER Millard Pickering of Oklahoma arranged for the scholars to tour Mardi Gras World, where floats are made for Mardi Gras parades throughout the city. They also enjoyed a walking tour of the French Quarter, free time to shop in Jackson Square, and live jazz music in Lafayette Square.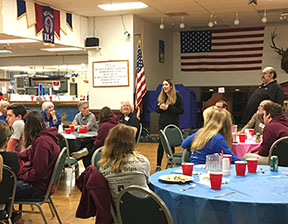 It wouldn't be an Elks Scholar Service Trip without the opportunity to meet some of their New Orleans Elks family. On Wednesday night, New Orleans Lodge No. 30 hosted the scholars for dinner and arranged for Arthur Hardy, an expert on all things Mardi Gras and New Orleans, to speak about the city's traditions. On Friday night, New Orleans-West Bank Lodge No. 2496 took a turn and hosted a night of seafood and shamrocks.
"To have these young adults come to our Lodge was a great honor," Lodge Secretary Puddy Gondrella shared. "The service they provided to our community while they were visiting was refreshing. This is a great program the ENF has created. Not only do the scholars get to see firsthand what we do and how we accomplish our goals, but it also gives us a chance to get to know them, what their goals are and encourage them to pay it forward."
"The service trip provided an amazing break from my fast-paced life," Anthony Simonetti, a 2011 MVS scholar reflected. "More important, it made me realize that service is just as rewarding to those serving as it is to those who are being served."
From service to sightseeing and card games to Cajun food, this group of Elks scholars left New Orleans having broadened their understanding of service, the culture of New Orleans and the support of their Elks family across the country.
The trip was also a homecoming of sorts for the fledgling program. The Scholar Service Trips were first conceived during the 2014 Elks National Convention in New Orleans.
Click here to view photos from the trip.
---
Back to top