Elkdom Comes Full Circle
An invitation can make all the difference.
Elks scholars are thankful for the support they receive from their Elks National Foundation scholarships, both financial and emotional. They appreciate the warm embrace of their #ElksFamily. But it takes more than that to turn a scholar into an eventual Elk. It takes a member who truly welcomes the scholar into their Lodge.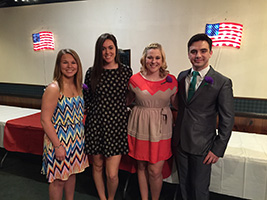 In April 2016, the Davenport, Iowa, Lodge No. 298 hosted four Elks scholars for an ENF dinner. The scholars shared their feelings about their scholarships and enjoyed dinner with their Elks family. The Elks, meanwhile, saw their ENF donations in action.
Nice feelings all around.
The story could have ended there, but fast forward to February 2017 and zoom in on Sam Dunklau, one of the scholar attendees last April and a student at Augustana College just seven miles from Davenport Lodge. He's back at the Lodge, his left hand over his heart, right hand uplifted above the altar, as he assumes the Obligation.
"I decided to join the Elks not only because of the organization's generous contributions in my years as an Elk scholar, but also because of the real, tangible work they're doing here in the Quad Cities and around the country," shares Sam, who won a Most Valuable Student scholarship in 2013. "I felt the contribution of my time and talent to an organization that shares my personal values and goals for a better community was well warranted."
We've been awarding scholarships for more than 80 years. Experience tells us that moments like this one don't normally happen without intervention from an Elk. In this case, that Elk was Lois Kundel, an active member of the Lodge and generous ENF donor.
Kundel thought that a few scholar speakers would amplify the impact of a dinner fundraiser she was organizing as the Lodge's ENF Fundraising Chair.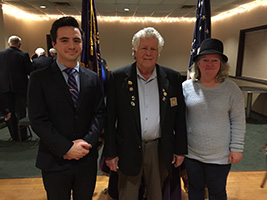 "While many of us contribute to the ENF on a regular basis, it's not every day that we get to see the return on our investment," she says.
So, she emailed the Foundation's Scholarship Department (scholarship@elks.org) and asked for help rounding up some scholars for her event. The office found four nearby scholars who were available to attend the dinner.
"Meeting the scholars, so grateful and humble, helped to make it all real," Kundel says of her charitable investment in the Foundation.
Clearly the experience was real for the scholars, too. And now one of them has joined the Lodge.
"I always get excited when we initiate new members," Kundel says. "However, being at Sam's initiation was extra special for me! It was like Elkdom had come full circle."
"We should make it a priority to try to encourage young people to join our order," adds Exalted Ruler John Zamora. "They bring fresh ideas and add a pleasant breath of fresh air to the Lodge."
Today's scholars can be tomorrow's Elks, but you have to make it happen. A simple invitation and a welcome reception can go a long way.
Sam Dunklau now has a new membership card in his wallet and the opportunity to work side-by-side with his fellow Elks in the Quad Cities and across the country.
---
Back to top