Elkdom is in Their Blood - 2017 Legacy Awards Contest
When the children and grandchildren of Elks members become Elks scholars through the Elks National Foundation Legacy Awards contest, they gain a new understanding of the words "Elks family". Besides receiving scholarship assistance to pursue their educational goals, they are welcomed into a nationwide community of fellow scholars and Elks members, all of whom are committed to serving their communities and making a difference through word and action.
2016 Legacy scholar Joshua Trimm, sponsored by Brawley, Calif. Lodge No. 1420, has learned the true meaning of Elks family through his volunteer service at his sponsoring Lodge.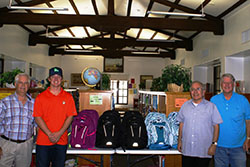 Both Joshua's father and grandfather are active members of their Lodge, so as Lodge Secretary Ron Stillman said, "Elkdom is in his blood". After receiving his Legacy Award scholarship, Joshua eagerly contacted the Lodge to see what community service events he could assist with.
In July 2016, Joshua helped with the Lodge's Promise Grant project, assisting with the purchase and delivery of 50 backpacks loaded with school supplies for a local summer reading program. He also judged the projects the children had completed through the program. The children were all smiles in Joshua's presence while he provided an example of future achievement for the young students.
But Joshua's involvement didn't end there. In December 2016, Joshua helped the Lodge with their annual Christmas Bicycle give-away to local foster and at-risk children. Thanks to the ENF's support through a Beacon and Gratitude Grant, Joshua helped the Lodge assemble and deliver 116 bicycles and helmets during his winter break. The children had a happy Christmas thanks to the Lodge's support and Joshua could see the Elks' impact on their communities.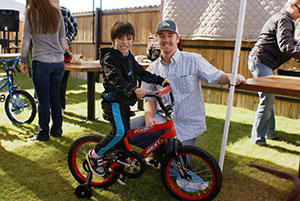 Thanks to his Legacy scholarship, Joshua's involvement with his Elks family has inspired him to get involved with his community.
"Serving with the Elks reminded me again how easy it can be to become more involved in my community," says Joshua. "It reminds me how much of an impact I can have on people around me."
As Joshua showed, Elks scholarships are more than just monetary support. They offer a nationwide community of likeminded individuals hoping to change the world through service. There are Elks children and grandchildren like Joshua who are ready to join this community and give back through the Elks.
Be sure to let Elks members and any eligible applicants know about the Legacy Awards contest. Applications are due online by February 3, 2017, at 11:59 am Central Time. Click here for more information.
---
Back to top