---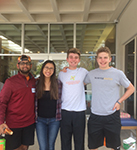 California
David Linn, 2016 MVS scholar from Harvey Mudd College
Jessica Phan, 2015 MVS scholar from Pomona College
Scholars from Pomona College and Harvey Mudd College along with other friends from their campuses gardened at the Upland Community Garden, "where they tell the history of the area through crops and give the produce away to those in need…those of us who went had an awesome time," shared David Linn a 2016 MVS scholar attending Harvey Mudd College.
---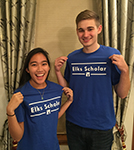 Oklahoma
Cullen Edens, 2016 MVS scholar from East Central University
Noelle Vargas, 2016 MVS scholar from the University of Oklahoma
Two MVS scholars sponsored by the Ada, Okla., Lodge No. 1640 volunteered at Abba's Tables in Ada. Cullen shared, "Both 2016 graduates of Latta High School, Noelle and I came back to a routine volunteer spot. On this night, we—with the help of a local church—served around 40 people from the Ada community. Noelle and I were also in charge of the "food pantry," which is a room in Abba's Tables where people have the opportunity to take non-perishable foods, fresh vegetables, and drinks home. Overall, this was a great night and we loved representing Elks scholars!"
---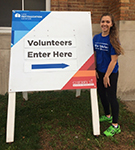 Ohio
Ashley LaFountain, 2013 Legacy scholar from the University of Toledo
Ashley served at the Cherry Street Mission where the volunteers packed 18,000 Thanksgiving meals in one day! "Overall, the event was an awesome experience to work together with other students from my university, participate in Elks Scholar Service Days, and be a part of something larger than myself to help so many people in my community. In the upcoming weeks, I plan to continue the theme of holiday season volunteering by helping at the Port Clinton, Ohio, Lodge No. 1718, where I'm a member, with the annual Children's Christmas Party."
Check back to read more about Ashley's experience in a blog post.
Click here to see local media coverage of the service event.
---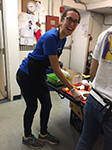 Connecticut
Alexa Vaghenas, 2016 MVS scholar from Yale University
"On Friday November 18, I volunteered at the New Haven Sunrise Cafe for Elks Scholar Service Days…No matter what obligations we have, it is so important not to become so consumed by our individual lives that we forget to give back…I sincerely thank the organization [The Elks National Foundation] for all the goodness they promote. Without them and their advocating for the Elks Scholar Service Days, who knows how long it would have taken to add a little service sunshine into my day?" Alexa shared.
Check back soon for a blog post from Alexa about her experience.
---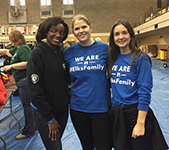 Illinois
Sancy Childers, 2012 Legacy scholar, Elks Veterans Service Commission Elks Scholar Fellow
Elks staff served at the Chicago Stand Down on November 18, 2016 and served 750 veterans by distributing clothes, providing camaraderie, facilitating the lunch line where veterans got a warm meal and cleaning up the dining area.
---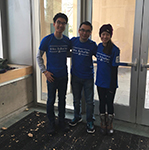 Pennsylvania
Jessica Nguyen, 2016 MVS scholar from the University of Pennsylvania
Kevin Yang, 2016 MVS scholar from the University of Pennsylvania
Nathan Chiu, 2016 MVS scholar from the University of Pennsylvania
"Despite the low temperature and fierce wind, the smiles—and awkward expressions—we got from the marathon runners as we offered them cups of chicken broth and Gatorade reminded us of the joy we get from serving others," shared Kevin Yang after serving at the Philadelphia Marathon with other Elks scholars from the University of Pennsylvania.
---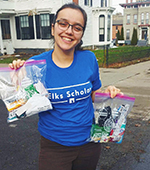 New York
Oneida Shushe, 2015 MVS scholar from Colgate University
Oneida Shushe put together care packages for clients at the Utica Rescue Mission along with other Colgate students. "They will be used as stocking stuffers for one of the Mission's holiday programs," shared Oneida. "Thanks so much again for bringing Elks Scholars all over the country together for a day of service!"
---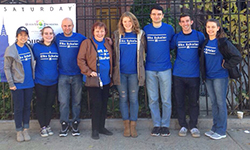 Manhattan
Elks scholars from Columbia University, NYU and Rutgers University served at the Holy Apostles Soup Kitchen in Manhattan and served meals to over 700 guests.
Click here to read more about their day of service.
Becky Clark, 2014 MVS scholar from Rutgers University
Timothy Diovanni, 2014 MVS scholar from Columbia University
Jessica Edgar, 2015 MVS scholar from Columbia University
Jenna Johnson, 2012 MVS scholar, Elks National Foundation Elks Scholar Fellow
Devin Noonan, 2008 Legacy scholar, Elks National Foundation Scholar Advisory Board President
Justin Schulberg, 2013 MVS scholar from Rutgers University
Maryann Slater, 2011 Legacy scholar, Elks National Foundation Programs Relationship Associate
Anton Sorkin, 2014 MVS scholar from New York University
Allison Yamamoto, 2013 MVS scholar from Columbia University
Erica Yee, 2013 MVS scholar from Columbia University