National Family Volunteer Day in the Big Apple

New York Elks Scholar Service Day
For some, the day started with a train ride across state lines. For others, a subway ride from Uptown to Midtown. In either case, 10 Elks scholars, including two Elks National Foundation staff, and a New York Elk came together with one common goal: to serve in honor of National Family Volunteer day with their Elks family.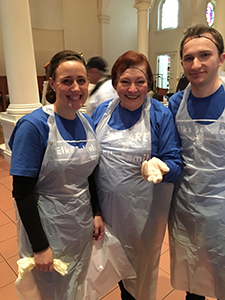 As the group of Elks family walked into the church, they passed a line of individuals that was already wrapping around the block an hour before hot meals would be served. After suiting up in hairnets, gloves and aprons, the group was ready to serve at the Holy Apostles Soup Kitchen–New York City's largest emergency food program. The Holy Apostles church was founded in 1844—the soup kitchen has been open since 1982—serving nutritious meals to thousands of hungry New Yorkers each week.
With live piano music playing in the background creating a welcoming atmosphere for lunch guests, the Elks family took to their stations and were eager to serve the growing line of those in need. From wrapping sets of silverware to greeting guests and everywhere in between, every job was equally important to ensure guests were treated with dignity and respect.
Learning Through Serving
Tim Diovanni, a 2014 Most Valuable Student scholar studying at Columbia University greeted each individual as they came through the door and walked away with a new perspective from this experience. Tim asked each guest, "How are you?" and he was surprised so many of them responded with a cheerful "I'm good!" "It puts your own life and especially your own struggles into perspective," shared Tim.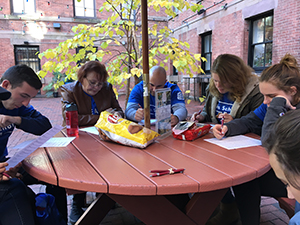 When Jessica Edgar, a 2015 MVS scholar from Columbia University heard one guest comment that he planned to give the blanket he received when he walked in to someone who needed it more than him, she was humbled to hear of his extreme generosity. Jessica reflected, "I will now appreciate what I have more than ever before and will continue volunteering!"
Whether the scholars were on the front lines or behind the scenes, they were all important components of the well-oiled machine that is the daily meal distribution at Holy Apostles.
After serving meals to more than 700 individuals, the scholars enjoyed lunch together at the soup kitchen and got to taste the delicious and nutritious food that they had distributed all morning. Then, they joined together to reflect on the day's service and discuss ways that they can continue to serve their communities and get involved with the Elks.
"I learned that there are so many ways to get involved with the Elks," shared Allison Yamamoto, a 2013 MVS scholar from Columbia. "Now that I've had the opportunity to meet and connect with other scholars, I have a new appreciation for being part of such a passionate, service-oriented 'family.' It's very inspiring to serve with others who aspire to make a positive difference in the community."
Scholar Advisory Board President, Devin Noonan, a 2008 Legacy scholar and member of Herkimer, N.Y., Lodge No. 1439 shared, "It was a very rewarding experience being able to help the homeless in New York City, especially as we're heading into the holiday season."
Big Apple Hospitality
After serving side-by-side with the Elks scholars at Holy Apostles, Exalted Ruler Anitra Butler and ENF staff left Manhattan for a visit to the Mother Lodge, New York, N.Y. Lodge No. 1. As the ER, Anitra led them on a tour of the Lodge's many historical artifacts dating back to the early days of Elkdom in the 1800's. Anitra enjoyed getting to hear about, "new programs that are being developed that will change the image and future of the Elks' growth." If you'd like to read about the opportunities available to Elks scholars, click here.
The weekend was capped off with a visit to the Columbia University campus to visit 2016 Top 20 MVS scholar Katie Curran. After a delicious breakfast at a local favorite spot, the Hungarian Pastry Shop, the staff enjoyed a tour of the campus and heard about all of the opportunities Katie has gotten involved in at Columbia, many of which have been made possible by her MVS scholarship during her exciting first semester.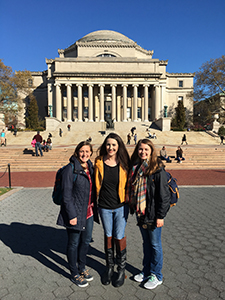 In just two days ENF staff got to connect with scholars studying everything from political science to music. Through service and reflection, each participant took away something different and is entering the Thanksgiving season with a renewed sense of gratitude.
If you're a scholar interested in serving with your local Elks Lodge or scholars in your area, email scholarship@elks.org. If you're an Elk interested in connecting with scholars in your area, please email scholarship@elks.org to welcome scholars into the Elks family.
This was just one project that took place over the weekend of November 18 in honor of National Family Volunteer Day for the Elks Scholar Service Days. A recap of other projects across the country will be posted shortly.
---
Back to top