Creating Lasting Change
2016 Weigel Medical School Scholarship Winner - Ishani Premaratne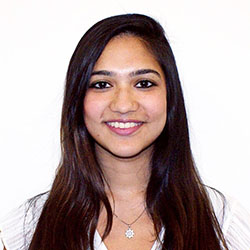 Ishani Premaratne received a Most Valuable Student scholarship in 2010, sponsored by Richmond, Va., Lodge No. 45. She spent her undergraduate years at Harvard College while studying Anthropology as a pre-medical student. Now, she is off to the Big Apple where she will study at Weill Cornell Medical School with a specialization in oncology.
Ishani took full advantage of the opportunities offered to her at Harvard and committed herself to serving both her local and international communities and telling the stories of the people and places.
In Boston, Ishani volunteered with Sister to Sister, an initiative to empower minority women in health care decisions. During her two years there, Ishani organized monthly meetings between local hospitals and nearby communities, connecting the two and preparing health topics for the women in attendance. She also helped local residents at Massachusetts General Hospital with medical questions, including helping to find primary care physicians, health plans and childcare assistance.
Ishani also took her compassionate service and flair for storytelling beyond Boston to Sri Lanka. At 18, she went to her parents' home country to interview patients about their experiences in local hospitals. She was inspired by the women she spoke to, many of whom were war widows from the country's civil war. Through her interviews, Ishani realized that the biggest impediment to these women from having quality healthcare was their lack of a steady income. A lack of communication between these women and the Sri Lankan government only exacerbated the problem.
This inspired her to develop GrowLanka, a mobile innovation system that connects women directly to job opportunities. To date, the system has connected more than 600 women to employment and is being adopted by the Sri Lankan government for nationwide expansion while giving war widows a livelihood and sense of purpose.
"My experiences learning from the war widows of Sri Lanka, and seeing trauma in its rawest form, have deeply influenced my decision to enter the medical field," says Ishani. "I hope to deliver care on an individual level while also engaging the global health policy issues that shape the way that medicine is practiced and the resources that are available."
Her experiences in Sri Lanka landed Ishani on Glamour Magazine's "Top 10 U.S. College Women" list, and her stories have appeared in local and national publications. Her knowledge of global health and understanding of trauma victims also led her to be the Head Teaching Fellow for an international mental health curriculum developed by Harvard professors and taught to low-income women in Bangladesh. She also served as the lead research assistant on Chelsea Clinton's forthcoming book on global health governance.
Yet despite her world travels and numerous accomplishments, Ishani credits her hometown of Richmond and the Elks with instilling in her a sense of community.
"When I first applied for an Elks scholarship, I immediately saw the Elks as grounded in an ethic of service and the chance to contribute to something greater than myself," says Ishani. "My deep appreciation for being a part of and contributing to my community is what being an Elks scholar means to me."
After losing her husband, Gunther, to a staph infection in November 2009, the late Lee Weigel wanted to improve the quality of healthcare in our country. To realize that goal, she partnered with the Elks National Foundation to endow the Gunther and Lee Weigel Medical School Scholarship, which helps Elks scholars pursue careers in medicine.
For more information about our scholarship programs, visit www.elks.org/enf/scholars.
---
Back to top