From Boston to Peru
2016 Weigel Medical School Scholarship Winner - Michael Lindeborg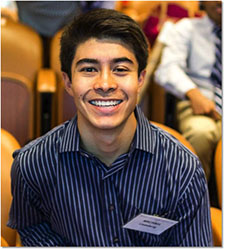 Michael Lindeborg, a 2010 Most Valuable Student scholar, sponsored by San Clemente, Calif., Lodge No. 2068, graduated from Harvard College with degrees in Biology and Health Policy. He will return to Cambridge this fall when he starts at Harvard Medical School with plans to specialize in infectious disease.
During his time at Harvard, Michael served the Boston community as a patient advocate at Health Leads, where he connected underserved patients with social services. After serving with patients with mental health needs, he worked to implement mental health protocols nationwide, including developing a mental health resource curriculum and establishing clinical support mechanisms for patients with mental illness. His time there allowed Michael to learn the importance of listening to patients and incorporating their mental and social services needs, along with their values, into their health care plan.
"My experience inspired me to pursue a profession that will allow me to provide patient-centered care and become a leader who can inspire this change in healthcare systems," says Michael.
After graduating magna cum laude, Michael travelled to Peru to work with low-income patients and medical professionals to develop plans for tuberculosis treatment in local communities. As in Boston, Michael was able to see the importance of relationships with the community and patients themselves in creating health care equity and providing effective care.
Besides further empowering him to act as a patient advocate and connect patients with community resources, his experiences in Peru inspired him to pursue infectious disease as a specialty to continue the fight against diseases such as tuberculosis. Michael is excited to continue his education at Harvard Medical School with the support of his Elks family and remembers the impact the Elks have had on his development.
"From Boston to Peru, my Elks scholarship has been instrumental in guiding me towards a career focused on addressing health care disparities with a community focus," says Michael. "I aim to carry these values forward as a physician and reflect on what it means to be an Elks scholar."
After losing her husband, Gunther, to a staph infection in November 2009, the late Lee Weigel wanted to improve the quality of healthcare in our country. To realize that goal, she partnered with the Elks National Foundation to endow the Gunther and Lee Weigel Medical School Scholarship, which helps Elks scholars pursue careers in medicine.
For more information about our scholarship programs, visit www.elks.org/enf/scholars.
---
Back to top