Chicagoland? More like Scholarland!
Thirteen Elks scholars and two ENF staff, also Elks scholars, recently traveled home to 11 different states after spending the week of June 5-11 serving veterans and connecting with their Elks family.
As the Elks Scholar Fellow, I had the privilege of leading the trip and witnessing the scholars' dedication to service firsthand. It is evident that the impact the scholars will have in their individual communities, work places, families and college campuses has only just begun.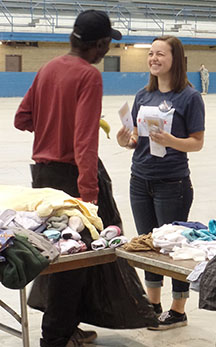 They served tirelessly during the day and then came together at night to process their experiences and share meaningful insights during reflection. They expressed a fervent desire to take what they learned home with them, and to keep their passion for service strong.
Over the course of the week, we engaged in a variety of projects with several Chicagoland organizations. From working on a mosaic at an elementary school to distributing food to more than 70 veteran households through the Jesse Brown V.A. Medical Center, the service sites looked different every day. "It really opens your eyes to the types of service out there," observed Grace Wickerson, a 2016 MVS scholar. "It also allows you to see parts of the US that you might not have had the privilege to visit."
The week culminated with our participation in the Chicago Standdown, an event that brings together local organizations to provide services to homeless veterans, such as housing assistance, employment opportunities, eye exams, and haircuts. The scholars organized and distributed clothing to hundreds of veterans, while getting to hear their stories.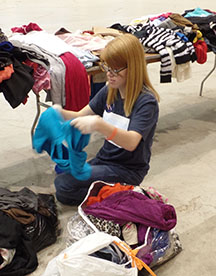 In addition to building relationships with one another, the week was framed with opportunities to connect with ENF staff. We paid a visit to the Elks Memorial and Headquarters where the scholars participated in a scavenger hunt and learned about the rich history of the Elks. They then conversed with staff members over Chicago-style deep dish pizza. On Friday night, the Brookfield, Ill., Lodge No. 1510 hosted us for a family dinner. We had a tour of the Lodge and the opportunity to hear about the lives of inspirational Elks members.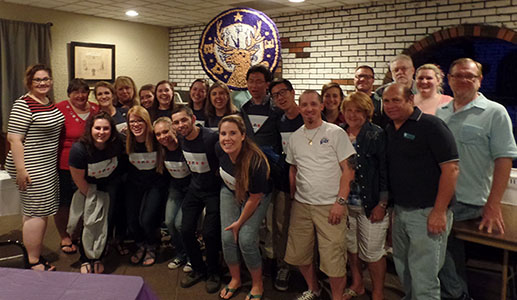 Even during free time, the scholars were unstoppable. They made a visit to the Lincoln Park Zoo, experienced a sunset boat tour on Lake Michigan and explored the heart of downtown Chicago. "I knew that other Elks scholars were out there, I just didn't know that I could become so close to other Elks scholars," shared Courtney Kabat, a 2013 Legacy scholar. "I think the community, respect, and love that we shared is a testament to the founding virtues of the Elks and the virtue of Elks scholars."
This exceptional group of scholars embodied the essence of Elks family as they served the City of Chicago, and they will continue to do so as they return home more informed about important societal issues and more connected to their Elks community. When asked if she could see herself becoming an Elk someday, Megan Uren, a 2016 Legacy scholar said, "Yes, I most certainly would. The Elks are a phenomenal group of people who enjoy serving others, as well as having fun along the way."
It was a wonderful week of service in Chicagoland, and I look forward to meeting more Elks family on future trips! Check out this flyer to read about the dates and locations of the Winter and Spring trips.
To see more pictures from the Summer trip, visit the Elks Scholar Facebook page and the Flickr album.
Follow Elks Scholars on Twitter and Instagram.
---
Back to top