Shooting Hoops with Scholars
Chicago was home to the Hoop Shoot National Finals for the first time ever from April 14-17, 2016.
Click here
to watch highlights. What do a student affairs professional, a fundraising specialist, a UW-Madison student and a photographer have in common? Elks scholars who fill all of those roles attended the Hoop Shoot National Finals! Macy Warburton, Devin Noonan, Ali Dusek and Rohini Manickam joined in the festivities this past weekend and got involved in their own ways.
Macy Warburton, a 2010 MVS scholar, celebrated her 5-year anniversary of volunteering with the Hoop Shoot program by attending her fourth National Finals. Macy rebounded for the 10-11 year-old and 12-13 year-old girls' contests. Macy graduated from Kansas State university and currently works at Baylor University in Texas. Click here to watch a short film featuring Macy sharing how getting involved with the Hoop Shoot inspired her to become an Elk!

Devin Noonan, a 2008 Legacy scholar and the Elks Scholar Advisory Board president, attended his first National Finals and helped to ensure that those not present could follow the action live on the online shot tracker. Devin was no stranger to the Hoop Shoot, however. After volunteering at his first Hoop Shoot in February at the New Jersey State Contest, he was eager to experience the National Finals in Chicago.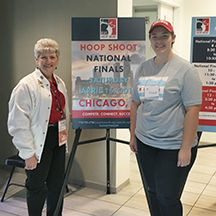 Ali Dusek, a 2015 Legacy scholar, along with her dad, a Legacy sponsor visiting from Alaska, drove to Chicago the morning of the Finals from the University of Wisconsin-Madison campus to assist with registering fans onsite. Ali was able to connect with the other Elks scholars as well as Elks members in attendance. Ali, from Alaska, cheered on Blake Dinkel, also from Alaska and sponsored by Palmer, Alaska, Lodge No. 1842, as he shot in the 10-11 finals.
Rohini Manickam, a 2013 MVS scholar joined us for the Finals as the Elks scholar photographer. Click here to view Rohini's photography website. Her photos from the Finals will be up on her website soon! Rohini attended the inaugural Elks Scholar Service Trip in August 2015 to Manistique, Michigan. Click here to hear about her experience on the Summer Elks Scholar Service Trip. She is currently on a pre-med track at Wayne State University in Detroit.
As you can see from this diverse group of scholars, the Elks Hoop Shoot provides many opportunities for scholars to get involved! Whether you'd like to rebound, register fans onsite, capture the contest through photographs, or share about your experience as an Elks scholar with the Hoop Shoot contestants and their families, you can become a part of the Elks Hoop Shoot program in your local area!
The Hoop Shoot season starts in September, if you're interested in volunteering at a Hoop Shoot contest near you or if you'd like to have scholars volunteer at your Lodge's Hoop Shoot contest, email scholarship@elks.org
---
Back to top