Lodge Facilities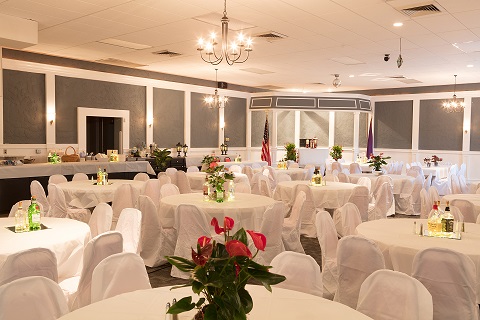 Function Hall
HALL Rental Rules and Regulations (updated 07/23/18)
Member: 100 people or less = $500.00
Member: 100+ people = $600.00
Non-member: 100 people or less = $600.00
Non-member: 100+ people = $700.00
Member: 100 people or less 500.00
Member: 100+ people 600.00
Non-member: 100 people or less 600.00
Non-member 100+ people 700.00

* Will accommodate up to 220
* $200 deposit required one week after rental contract is sent with signed agreement to firmly hold the date.
* See contract for liquor/beer packages
* Bartender, set up and clean up included along with 1 bartender
* After 75 people extra bartender at $15 per hour at 150 people a third bartender also at $15 per hour
* No outside alcohol or beverages other than bottles water. (We allow juice pouches/boxes for those having kids)
* We do not supply paper, plasticware, or table cloths
* Renter typically gets the room for the day, set up same day only
* For information, please leave a message at 314.434.5650 (your call will be returned within 48 hours) or email the Lodge Secretary ( elkslodgenine@gmail.com )

WiFi available at the lodge - Elks is the ID and "elkslodge" is the passphrase.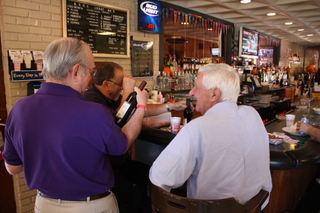 Lounge
Open to Elks members, family and guests.
WiFi available at the lounge - Elks is the ID and "elkslodge" is the passphrase.
Patio by the Pool
Patio Rental: (East/South) = $125. Pool passes are $5 each swimmer. For every 20 swimmers/guest passes additional life guards must be scheduled at $15 per hour. Each area of the lodge is separate rental.
A beautiful lattice covered patio adjacent to the pool area loaded with patio tables and chairs for your relaxing enjoyment. May be rented for private parties!!!
WiFi available at the lodge - Elks is the ID and "elkslodge" is the passphrase.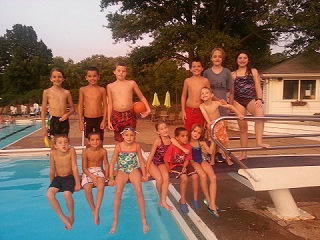 Salt Water Swimming Pool
Much better than chlorine pools!
Open Memorial Day through Labor Day for Elks members, their family, and guests. See Pool & Swim Team links on the left side of this page for more information.
We have a GREAT Pool Membership option for other members of Missouri Metro District Elks Lodges.
Pool House Phone: 314.205.1970.
Sand Volleyball Courts
Two "Florida White Sand" courts adjacent to the Swimming Pool. Leagues 5 nights a week and Tournaments on weekends. For League information, contact Missouri Sand Volleyball @ 314.303.3185 or for general information contact the Lodge Office @ 314.434.5650.
Picnic Area
Have your family reunion or company picnic at the Lodge at our covered picnic area with brick grills! Contact the Lodge for details at 314.434.5650.
RV parking
Due to city Ordinances, we DO NOT have parking for motor homes, campers, etc.
---
Back to top