Lodge Facilities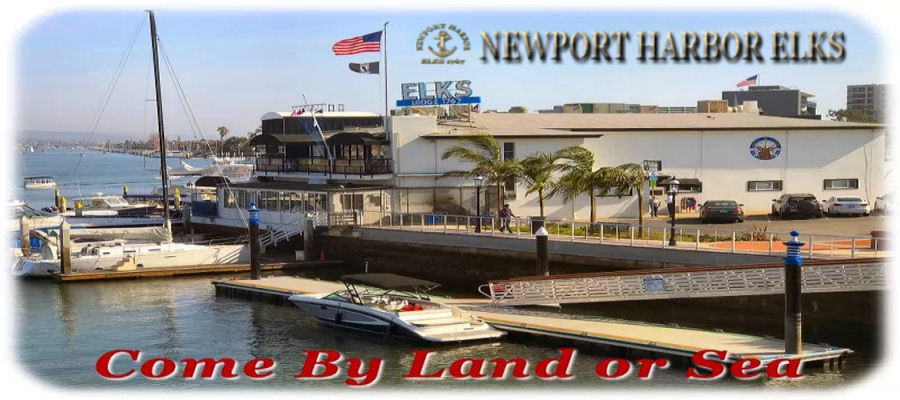 Newport Harbor Elks Lounge
Newport Harbor is touted as one of the finest small boat harbors in the world. Over 9,000 vessels are anchored in its tranquil waters, where recreational and commercial boats of all sizes can be found. Both visitors and locals take advantage of the many boat rental and yacht charter opportunities to enjoy the Harbor's beauty.
The Newport Harbor Elks Lodge is situated right on the water with a spectacular view of the harbor and it's boating and water sports activities. The Lodge's lounge is open 7 days a week. The Lodge provides guest docking facilities so you can truly "Come to the Lodge By land or by Sea.
For more information, please call our office at:
(949) 673-6110
Newport Harbor Elks Restaurant
The Newport Harbor Elks Lodge is proud to offer a wonderful dining experience right on the water with a full kitchen & chef. Our restaurant is open for dinner on Friday & Saturday nights and brunch on Yacht Club meeting Sunday.
On weekdays, we offer a special Pub Menu which features delightful snacks. On the first and third Tuesday nights, our renowned Spaghetti dinners draw a good crowd... and we are serving great Street Tacos on the 2nd and 4th Tuesdays.
On Thursday, we kick it up a notch or three with our Grilled Steak or Chicken dinners accompanied by Karaoke for entertainment. This is a large & popular weekly event. Availability is "First Come, First Serve."
On Saturdays there is a Barbecue lunch provided by our lodge groups and headed up by the Leading Knight. Hamburgers and hot dogs at a reasonable price and the proceeds going to our charity basket fund.
This is a wonderful place for a reasonably priced meal with a priceless view.
Please call for Friday & Saturday reservations.
(949) 673-6943
BPOE 1767 Banquet Room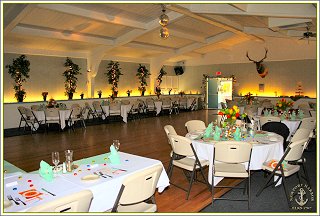 The Newport Habor Elks Lodge offers a full time banquet coordinator with a full range of services to make any function perfect. We have facilities to handle functions from 50 to 200 guests.
Located on the water, in a very romantic setting with a spectacular view of the harbor, our facilities are a local favorite for wedding receptions and formal events.
We have been heralded as the best kept secret in Orange county!
Call The Lodge Office @ 949-673-6110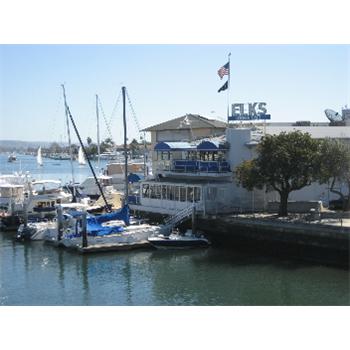 Newport Harbor Elks Marina
The Newport Harbor Elks Lodge is situated on the water and provides marina services with 4 slips. Our previous "Guest Dock" is no longer available for side ties or any overnight docking. However the City of Newport Beach has installed a new Public Dock which can be used for boats up to 30 feet.
This is based on "First Come First Served" basis. Best news, this is free and only steps from our front door. You are always welcome to tie up & join us for drinks or dinner.
Due to high demand, there is a waiting list to procure the slips for long term. And by special permission and reservation, our side tie can be used temporarily for Memorial Services or special events up to 1 hour maximum. Contact the Dock Master for details.
Call us for reservations:
( (949) 673-6110 )
Newport Harbor Elks # 1767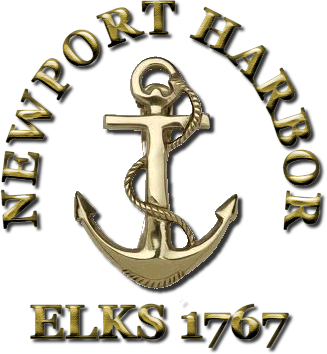 We are located at 3456 Via Oporto Newport Beach, Ca 92663. Locally, to get to our lodge, take Newport Blvd. south to Via Lido, turn left on Via Lido, proceed to the painted crosswalk ( approx. 1 block ) turn left onto Via Oporto (the little brick street) proceed to the end of the street and turn right at the stop sign and park at one of the meters.
Parking meters are free (if available) after 6 PM. There is also a parking structure across the street for a fee.
If you have any problems finding the lodge,
there is a printable Google Map on our ledge's website
( http://www.newportelks.com )
Or call us at: (949) 673-6110
and we will guide you in.
---
Back to top