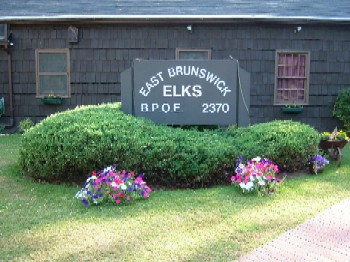 OCTOBER 2020 NEWSLETTER & OTHER EVENTS ARE POSTED IN THE "NEWS" SECTION TAB
EAST BRUNSWICK LODGE #2370 - THE LODGE ON THE LAKE
TYPICAL LODGE HOURS
WEDNESDAY & FRIDAY 5pm - 10:00p
SUNDAYS from 1pm - 10:pm
MUST R.S.V.P. EVENTS
For more info go to our "NEWS" section
Check out the live EBTV interviews about the ELKS charities below.
Elks Care, Elks Share. Are YOU an Elk?
Elks Lodges bring so much more to their communities than just a building, golf course or pool. They are places where neighbors come together, families share meals, and children grow up. Elks invest in their communities through programs that help children grow up healthy and drug-free, by undertaking projects that address unmet need, and by honoring the service and sacrifice of our veterans.
If you are interested in joining, call the lodge at 732-821-9527 (Wednesday evenings) Come in for Wings N Things: Every Wed @7pm Great Pub Food and every Wednesday Evening is Open House Night Come on Down to the Lodge By The Lake! Come sunday afternoons to watch sports & the kitchen is open.
Meetings: First & Third Thursdays, except July & August (Then we only meet the third Thursday).
Meeting Directions: Farrington Lake At Hardenburg Lane, East Brunswick, NJ
Mailing Address: East Brunswick Elks-Lodge #2370 - PO Box 120 - East Brunswick, NJ 08816
Physical Address East Brunswick Elks-Lodge #2370 21 Oakmont Ave. East Brunswick, NJ 08816
Telephone: (732)821-9527 (Lodge)
Telephone: (201)939-0011 (Emergency)
E-mail: EBELKSSQUARE@gmail.com

Purchase Page

: https://www.ebelks2370.com/

(Lodge accepts Major credit cards)

Webmaster: Lorene Giordano lorgior2@optimum.net
OK...so Joan Scaduto did a fabulous job when she was interviewed on EBTV the East Brunswick cable channel about our lodge. You can view it here: https://www.youtube.com/watch?v=Dt3-_Jjoenk&feature=youtu.be&t=3