Lodge #2370 Guest Book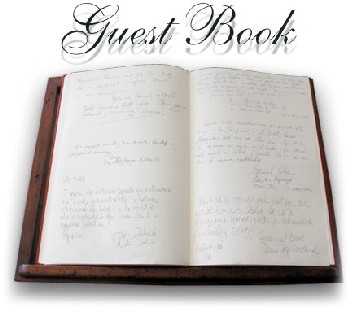 ---
Many thanks to Alice and Denise for your kindness during our family's period of mourning for PER Bob Ahlers. The Lodge of Sorrows was so meaningful to us, especially in view of the fact that Bob attended so many of them for his bother Elks who passed before him. The Memorial Service at the Lodge was dignified and touching. Thank you again. Maureen Ahlers
Posted 03/03/2019 at 6:26 PM
---
from Asbury Park-Wall, NJ, Lodge #128
Hi Joan and Paul just seeing how East Brunswick is doing,your web site is very well made and informative, will see you at Union Lodge on the 27th.
Posted 01/17/2013 at 2:22 AM
---
from Prescott, AZ, Lodge #330
Greetings from Prescott Lodge #330 "Mother Lodge of Arizona". In December of 1895 a group of enterprising businessmen in Prescott, sturdy products of the early west, charted the original petition for a dispensation and later established the Prescott Lodge. Prescott and Prescott Valley, Arizona, are located about 90 miles northwest of Phoenix. With our mile high elevation (5230 ft), the cities enjoy a four-season climate with both mild winters and summers. Check out our elks.org page. We have a very content rich elks.org site. Featured pages are [Facilites], [Officers], [Elks'n the News], [Extra Pages](includes rich history of our lodge) and especially our [Photo Gallery]. If you have time after looking it over please sign our [Guest Book]. Thank you
Posted 05/09/2012 at 11:18 PM
---
from East Brunswick, NJ, Lodge #2370
I am sure we are all mourning the loss of our fellow Elk, Wayne. He was an excellent example of what an Elk should be-caring, helpful, friendly, & determined. I know that I will always remember Wayne as one of the Elks who helped me find my way in the lodge. Even though I am a "remote member", I mourn for our lodge and the rest of Elkdom's loss with Wayne's passing. I pray that Wayne's family, both blood and extended, will find their grief lessened by remembering the great times they had with Wayne. God Bless You, Wayne. ED
Posted 05/17/2011 at 1:36 PM
---
from West Palm Beach, FL, Lodge #1352
I want to express how happy I am for my dad, Grady Jenkins who was elected as a life member at East Brunswick Elks Lodge #2370. Your a great lodge and always will be.
Posted 05/11/2011 at 2:24 PM
---
from Ticonderoga, NY, Lodge #1494
Hi!!!310
Posted 04/04/2011 at 11:10 AM
---
from Edison, NJ, Lodge #2487
love the website, love the members even more. You guys (and girls) ROCK!!!!
Posted 01/06/2011 at 2:14 PM
---
from East Brunswick, NJ, Lodge #2370
Website looks awesome! Keep up the Great Work Lisa, I know you work hard on it...
Posted 11/12/2010 at 7:50 AM
---
from Clear Lake (Kemah), TX, Lodge #2322
Great web page! Looks very well organized and thought out...sure puts a bright spot in Elkdom
KUDOS to all..
Jack
Posted 09/16/2010 at 11:16 PM
---
Lisa, You are doing a great job as the webmaster. The lodge is lucky to have someone like you working for them. Keep up the hard work! ED
Posted 07/01/2010 at 12:54 PM
---
from East Stroudsburg, PA, Lodge #319
Greetings from East Stroudsburg lodge #319. Just viewing other lodge's websites to get some ideas. Stop by our website and view some of our events.
Posted 03/31/2010 at 10:19 AM
---
from East Brunswick, NJ, Lodge #2370
I love the East Brunswick Elks - My Lakeside Family. Thanks!
Posted 03/11/2010 at 8:11 AM
---
Had a great with you all at NJ State Convention in June. Congratulations for placing 1st in so many categories for the Parade. A great looking group of Elks passed by that reviewing stand. Fraternally, Bruce Cook, PER
Posted 09/11/2009 at 11:10 AM
---
from East Brunswick, NJ, Lodge #2370
I was just reminising abou the Elks. My parents were charter members. I remember as a little boy working there on the weekends cleaning and scubbing the building. My father was exsulted Ruler I think around 65-1969. This is for you dad MICHAEL KREVACK for starting this building up for othere the enjoyed. Love Kevin
Posted 06/11/2009 at 1:35 PM
---
Debbie Czech - Central District Vice President (djczech@msn.com)
from South Plainfield, NJ, Lodge #2298
Alice, officers and members:
You cannot know how proud I was to watch your lodge march in the Wildwood Convention Parade - you looked simply "Mah-velous!"
Thank you all for the kindness you showed me at my installation as well as when I visited your lodge.
I wish you a highly successful and productive year in Elkdom - Lead on Alice!
Posted 06/10/2009 at 6:11 PM
---
from West Palm Beach, FL, Lodge #1352
Dot and I want to thank Chuck, Margaret, John, Jan and everyone else on the convention committe this year. YOU ALL DID A GREAT JOB.
We were glad to see all of our friends, Bill and Kay, George and Ginger, Paul and Joan, Janet, just to name a few!!! We missed of course seeing Steve and Dee, but they were in our hearts and we're thinking of them.
Thanks again for a great weekend!!!! EAST BRUNSWICK ELKS 2370!!!!!!!!!
Posted 06/09/2009 at 12:18 PM
---
from Lancaster, PA, Lodge #134
Nice web Pg. Your Lodge seems to be very active. Could someone provide me with information on the fundraiser "tricky Tray. Thank you.
Posted 05/30/2009 at 7:58 AM
---
from Egg Harbor Township, NJ, Lodge #2563
Great job by all . CHECKING OUT YOUR ACTIVITIES
Posted 02/03/2009 at 5:51 PM
---
from Edison, NJ, Lodge #2487
great lodge with great people and a website that is outstanding. East Brunswick always makes my wife Madelyn and I feel right at home, Cliff Lenox PDDGER
Posted 06/23/2008 at 9:31 PM
---
I recently attended your Fabulous 50's party. I brought 5 friends with me. We had a great time. Good Music, Good friends, Good food & made new friends, Hope to attend next year. This was my first time at the Lodge.
Posted 02/28/2008 at 1:55 PM
---
from West Palm Beach, FL, Lodge #1352
This is your year Paul Scaduto...Best of Luck in your quest for VP-Central District in 2008-2009.
Posted 02/28/2008 at 7:19 AM
---
from Springfield/Hillside, NJ, Lodge #2004
Very nice work
Posted 10/15/2007 at 2:16 PM
---
from East Brunswick, NJ, Lodge #2370
Our website looks great!!!! Thanks for all of your hard work, Ed.
Posted 09/26/2007 at 1:19 PM
---
from Ticonderoga, NY, Lodge #1494
You have a wonderful lodge. Look to visit more often.
George
Posted 06/27/2007 at 2:20 PM
---
from East Brunswick, NJ, Lodge #2370
Nice Website...So 40 years ago in 1967 our Lodge Home was chartered. I can remember the 20th and then the 30th Anniversary Dinner Dances. Keep up the great works you are doing in Elkdom. PER Bruce 1994-95
Posted 01/29/2007 at 9:46 PM
---
from Winthrop, MA, Lodge #1078
Greetings from Winthrop MA. Lodge #1078, If your ever in our area be sure and stop in. You can also click on over check out our web page and sign our guest book. Our Lodge is minutes from Boston, in 2007 we are celebrating 100 years of Elkdom.
Bob Gillis, Lodge Historian
Posted 10/24/2006 at 10:12 AM
---
from East Brunswick, NJ, Lodge #2370
Nice to see us actively on-line.
Posted 09/01/2006 at 8:52 AM
---
Duncan Lodge #1446 is proud to be the first to sign your guest book. It is great to see other Elks Lodges using the web. Our Lodge 1446 is also on the Elks page, please drop by and sign our guest book. We also have our own web page listed as: www.duncanelksclub.org. We have a 18 hole golf course, pro shop, ballroom, dining room, swimming pool, card room, lounge, and 19th hole. If you or any of your members are ever in Duncan, Oklahoma, please stop by and play a round of golf and have dinner. We would love to have other Elks come and see us.
Sam Amerson
Posted 07/26/2006 at 7:06 AM
---
Back to top