Lodge #1777 Home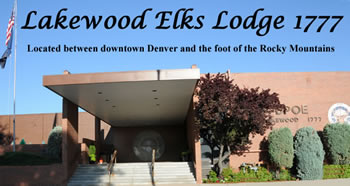 Lakewood Elks Lodge #1777 welcomes you to our Lodge and our Website.
The members and officers invite you to join the most active Elks Lodge in Colorado.
We have live music to dance to on Thursday evening from 6pm to 9pm ($7.00 per person), Friday evening Western style dancing from 7pm to 10 pm at $5.00 PP cost to attend, and one Saturday night per month we have a theme dance with mostly Ball Room Dancing, cost is $10.00 per person 7:00 pm to 10:00 pm. Many other Saturday nights are now schuled,please check the Bugle for list of the bands, 7:00 pm to 10:00pm.$10.00 per pedrson.
These dances are for Elk members and their guests ONLY, unless otherwise advertised.
Check Calendar to verify dates and times. Please check our website or call the office from 9am to 2pm, Monday thru Friday for more information, 303-238-1307.
External Website for More Information on Events and our Facility: www.lakewoodelks.com
Interested in Membership in the Elks??? Please contact the office or any Elk Member about joining us.
---
Back to top