Dunkirk Elks Lodge Ad - Bridal Supplement in The Commercial Review issue on Friday JANUARY 20th, 2023
Dunkirk Elks Lodge Ad! BRIDAL SUPPLEMENT in The Commercial Review issue
Friday JANUARY 20th, 2023 - Dunkirk Elks Lodge 1776 - 1026 S. Main St. - Dunkirk, Indiana 47336
Take a look at our Elks Hall, Our Grounds and Compare!
Click Here to View Lodge Room: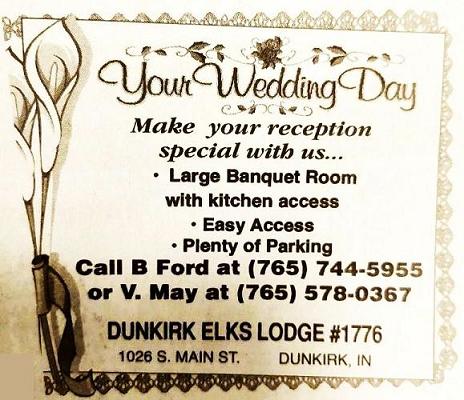 Dunkirk Elks Lodge Ad!
BRIDAL SUPPLEMENT in
The Commercial Review issue
Friday JANUARY 20th, 2023
On "Your Wedding Day,"
Make your reception special with us!
Bob Ford - (765) 744-5955 -or-
Vicky May - (765) 578-0367
Click: "Facilities" tab on the Dunkirk Elks 1776 Website!
---------------------------------------------------------------------------------------------------------