ATTENTION DEER HUNTERS
Our 2022/2023 Season has ended - Thank you!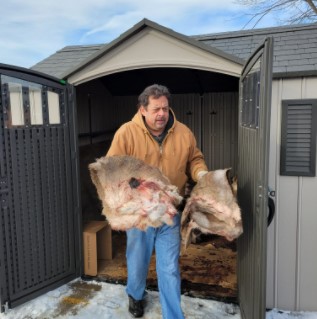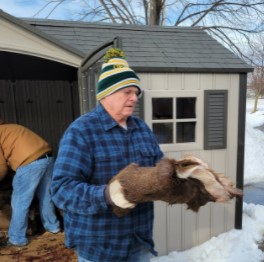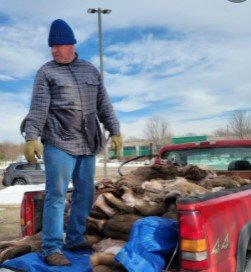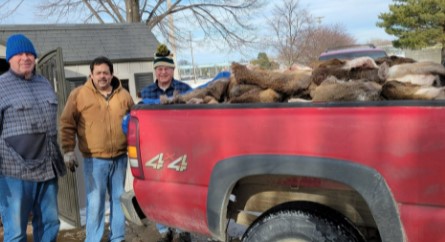 The 2022 Iowa Veterans Leather
Program had another great season!

Remember to ask family and friends to save their deer hides and bring them to the lodge next year.
This is the 24th year that our Lodge has participated in this great program. Our Iowa Elks did an outstanding job last year collecting approximately 3,560 deer hides in which we were a close second in the nation - just behind Missouri (we have been first in the nation in previous years.)
All of the deer hides will be tanned and given to our Veterans at Marshalltown and other V.A. Hospitals for their leather craft programs. The veterans in turn make leather crafts such as belts, billfolds, purses, coats, gloves, gun cases, and many other leather items such as wheel chair gloves.

OUR WINNING PROGRAM IS:
A win for the hunter who donates the hide
A win for the Deer hides transformed into tanned leather
A win for the Veterans for wheelchair gloves and Leather Crafting

DID YOU KNOW:
In one single year;
17 states collected 19,283 hides.
3,460 veterans received free wheelchair gloves.
68,000 square feet of leather was donated by Elks to provide free craft kits for recovering veterans.
8,378 veterans received craft kits from the Elks.3,336 pairs of wheelchair gloves were given to disabled veterans
3,560 deer hides collected in Iowa in 2022

Deer Hunters! Bring your deer hides to our lodge! There is a grey shed in the SW corner of the parking lot!
Please Call Larry Cramer at 515-783-5262 for arrangements to drop them off - or for us to come and pick them up!
AS LONG AS THERE ARE VETERANS, THE BENEVOLENT AND PROTECTIVE ORDER OF ELKS WILL NEVER FORGET THEM.