eBay and the ENF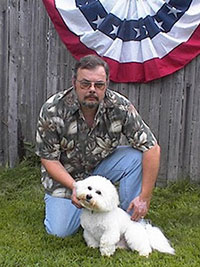 The American flag has long stood as a great symbol of our country. For Damon Lenk, a member at Bristol, Conn., Lodge No. 1010, it's an honor to work closely with that great symbol and to support the Elks National Foundation at the same time.
Lenk sells American flags online through eBay, and chooses to send a percentage of each sale to the ENF through eBay Giving Works.
"Selling on eBay and giving a portion of the sale to the ENF is like donating through payroll," says Lenk. "It's a seamless way to donate, and when you check your account at the end of the year, you'll be surprised how much you've raised for the ENF."
How it "Works"
eBay Giving Works allows eBay buyers and sellers to support charitable organizations. If you're selling an item, first select the ENF as your favorite charity. Next, while posting the item online, designate a percentage of the sale to be sent to the ENF. It's that easy!
"If you have a desirable piece, people will bid on it," Lenk says. "But you have to be realistic about the price and be happy with what you get."
Once the item sells, eBay's non-profit partner, PayPal Giving Fund, collects the donation and delivers it safely and securely to the ENF. PayPal Giving Fund also allows you to add your own personal donation if you are buying an item through eBay Giving Works.
Lenk's Link
Lenk discovered his way of consistently giving back through eBay Giving Works, and he plans to continue doing so.
"I'm going to keep selling American flags for as long as I can, and keep supporting the ENF too."
So, if you're looking for a great way to show your patriotism this summer, you can find Lenk's American flags, all made in the USA, on our eBay Giving Works homepage. Click here to see them now!
Join the ENF's Virtual Yard Sale
You can support the ENF just like Lenk! Join the ENF's virtual yard sale this August and sell some of your extra, gently used, new, handcrafted or antique items online through eBay Giving Works.
"If everyone can just put up one item for sale, it can make a big difference," Lenk says.
To learn more about the ENF's eBay Giving Works page and how to set up for the August yard sale, click here.
---
Back to top