Conquer It
The Elks Hoop Shoot is proud to welcome as its keynote speaker, a woman who embodies grit.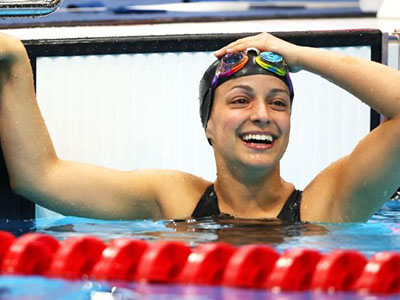 In 2006, when she was just 11 years old, Victoria Arlen's life changed drastically. She developed two rare conditions known as Transverse Myelitis and Acute Disseminated Encephalomyelitis. She quickly lost the ability to speak, eat, walk and move, and slipped into a non-responsive state.
Victoria spent nearly four years "locked" inside her own body, completely aware of what was going on but unable to move or communicate. Her doctors wrote her off as a "lost cause," but Victoria never gave up.
In 2010, she began the seemingly impossible fight back to life. While facing the devastating reality of paralysis from the waist down, she relearned how to speak, eat and move. And just two years later, she won four medals (three silvers and a gold) in swimming at the Paralympic Games in London.
Today, she owns multiple World, American and Pan-American swimming records. She's also an accomplished speaker and actress. She recently joined ESPN as the network's youngest on-air talent and made her television debut last summer reporting at the Special Olympic World Games in Los Angeles. Victoria also reports for Sportscenter, espnW and X-Games.
At just 21 years old, Victoria is world famous not only for her story and accomplishments but also for her message:
"Face It, Embrace It, Defy It, Conquer It."
Victoria will be the keynote speaker for the 2017 Elks Hoop Shoot National Finals Awards Banquet on April 22 in Chicago.
To learn more about how the Hoop Shoot helps develop grit click here.
For even more about Victoria, click here.
---
Back to top