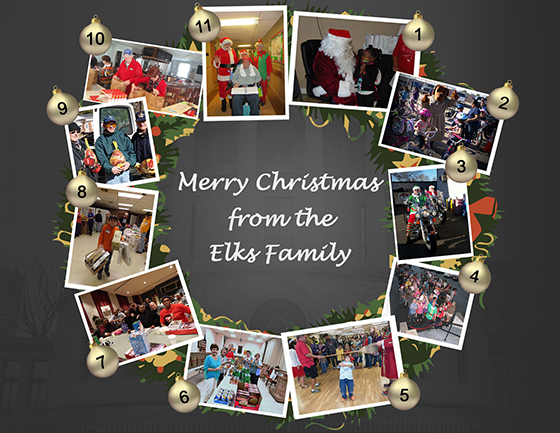 1.
Viera, Fla., Lodge No. 2817.
A young girl asks Santa for presents at a Christmas party for the organization Grandparents Raising Grandchildren of Brevard County.
2. Brawley, Calif., Lodge No. 1420. Crime dog McGruff tells children "Don't do Drugs" at the Christmas bicycle giveaway. More than 100 bicycles were given to children in Imperial County's foster care system.
3. Carteret, N.J., Lodge No. 2235. Santa and his helpers trade the traditional sleigh for motorcycles during the annual Christmas party for children with disabilities.
4. Lake City, Fla., Lodge No. 893. Elk (or should we say Elf?) Mike Lydick prepares to open the Lodge to more than 300 children for the Lodge's annual Christmas celebration.
5. Englewood, Colo., Lodge No. 2122. A young boy haves a little limbo fun at eh Lodge's Christmas extravaganza.
6. Venice-Nokomis, Fla., Lodge No. 1854. Elks prepare lunch for veterans at local assisted-living facilities.
7. Martinsville, Va., Lodge No. 1752. Veterans at the V.A. Hospital in Salem, Virginia take a break from the festivities to strike a pose for the camera.
8. Midwest City, Okla., Lodge No. 1890. Chris Topher takes time to break down boxes while Elks prepare food baskets for distribution to families in need.
9. Oglesby, Ill., Lodge No. 2360. Elks members Don Donohue, Tim Watkins, and ENF Grant Coordinator Ken Ficek deliver holiday turkeys to the Illinois Valley Food Pantry.
10. Raleigh, N.C., Lodge No. 735. Jim and Terri Pendergast prepare bags of hope for families from the local National Guard.
11. Syracuse, N.Y., Lodge No. 31. Mr. and Mrs. Claus make a visit to residents at the Syracuse V.A. Medical Center.
Looking for even more holiday cheer? Check out our Promise Grant Christmas feature for even more festive photos! Click here to watch.