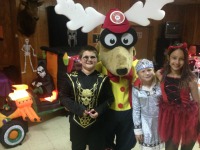 Ah, October! The leaves change colors, pumpkins are in season, and best of all, monsters, superheroes, and princesses come out to play! This was the case in Anderson County as children donning their best costumes took over the Oak Ridge, Tenn., Lodge No. 1684. Using a
Promise Grant
, the Lodge hosted a night of fun and frightful festivities at its first indoor trick-or-treat event.
The theme for the event, Drugs are Scary, was inspired by harrowing statistics in a 2014 Pride Student Survey which listed the average age of onset drug abuse for Anderson County at 13 years of age. Realizing that Red Ribbon Week, coincided with Halloween, the Lodge decided that hosting a Halloween Spooktacular would be the perfect opportunity to educate youth about the dangers of alcohol and substance abuse.
When asked how the Lodge was able to achieve such a high turnout, Project Manager Donna Forstrom cited promotion as the primary factor.
"Not only did we advertise in our local newspaper and personally deliver flyers to children at local youth centers, but a few days before the event the project was featured on the NBC affiliate TV station."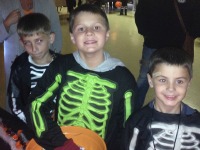 Realizing that this might cause a large increase in attendance, members sprang into action and purchased last minute supplies to ensure the event ran smoothly.
Overall, the event was an absolute success! With the help of 55 members, the Lodge was transformed into spooktacular space where more than 860 youth were able to enjoy Halloween in a safe, drug free environment. After a night of fun, all went home with a generous bag of treats and free hot chocolate.
Elks are committed to America's future. To build the character and competence of local youth, the Elks National Foundation awards $2,500 Promise Grants to the first 500 Lodges that pledge to host an eligible youth event. To find out more about Promise Grants and the Community Investments Program, visit www.elks.org/enf/community.