Did you do a double take at the big yellow bus bounding down the street this morning? It wasn't a hallucination—it's back-to-school season again! Across the country, students are packing their backpacks full of supplies for the new school year. But Elks know that not all students can afford to start off on the right foot with new supplies, which is why so many Lodges use CIP grants to help students in need at this time of year. Read on for three great examples of Elks supporting students in their communities.
Best Foot Forward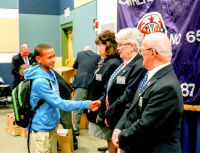 Anyone who has had a child go through high school will tell you the four years between being a freshman and a senior are years of great growth. A family's budget can take a hit when kids grow out of clothes and shoes every year. Lawrence, Mass., Lodge No. 65 knows this, and uses its Beacon Grant to help students in need start the school year off on the right foot with brand new shoes. In partnership with New Balance, Elks provided new sneakers to 74 students at Lawrence International High School this year. Lodge members were on hand the first day of school to assist with sizing, distributing and interacting with the students.
Carnival Games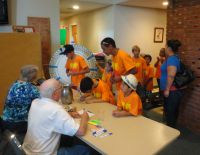 Livermore-Pleasanton, Calif., Lodge No. 2117 knows how to have fun with a purpose. Using both a Beacon and a Promise Grant, the Lodge put on its annual back-to-school extravaganza. In its third year, the Lodge opened its doors to more than 150 students in need for carnival games, school supplies and fun. Each child started the event with an empty backpack and received school supplies and clothing as prizes for playing games until their backpack was full to the brim.
"I wanted to convey our deep thanks for such a wonderful gift to students and families in our community," wrote a family in a thank-you note. "This will be our daughter's first official school year (Kindergarten), so not only were the school supplies needed, but it also kicked off a feeling of excitement in her to go to an event that celebrated getting ready for a new season of learning and exploring."
Backpacks with a Legacy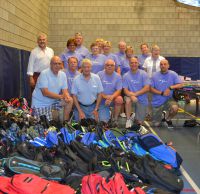 Imagine a mountain of 1,000 backpacks full of school supplies ready for eager students to take to school. This mountain was a reality in the Lancaster Recreational Center gym thanks to Lancaster, Pa., Lodge No. 134 and its back-to-school Beacon Grant project. 30 Elks, in partnership with the office of Pennsylvania State Representative Mike Sturla, were on hand to give away the backpacks, supplies and support resources, as well as provide lunch, games and face painting to the students in attendance. The Lodge also solicited the help of some young adults, including 2015 Elks Legacy scholar Christian Schmitt.
"It was a real window into what an Elk really is," said Schmitt of his experience volunteering. "An Elk, I learned, is truly benevolent. Each member I worked with honestly wished me--and everyone we met giving out backpacks--the best."
The Elks National Foundation allocated $9.77 million this year to fund the Community Investments Program. Lodges meet local needs in Elks communities through Beacon, Gratitude, Promise and Impact Grants. These grants offer Lodges opportunities to serve the community in ways that will raise the Lodge's profile, energize the membership, encourage former members to return to the fold, and gain the notice of people who want to be part of an organization that's doing great things. To learn more about the Community Investments Program, please visit www.elks.org/enf/community.