In 2011, Jeff Mitchell was the Exalted Ruler at Bradenton, Fla., Lodge No. 1511, and a man with much more free time than he has today. Then, something changed. Jeff learned that more than 2,000 children in the local Manatee County school system were classified as homeless, with many of them living in cars, group homes and motels. These children received meals at school during the week, but often went hungry over the weekend. They returned to school on Monday hungry and lacking focus, unable to concentrate on their studies.
Jeff knew he had to do something. He discussed the issue with his Lodge, and together they decided to apply for a $10,000 Impact Grant to start a project to provide these homeless children with much-needed support. The Elks Feeding Empty Little Tummies project, or EFELT, was approved for the first time that year, and it's grown stronger each year since.
Since 2011, Jeff has been involved in many charitable projects at his Lodge. He's worked as a co-grant writer for his Lodge for the past five years, and used his experience to assist other Lodges with their grant applications. He's also guided other groups and organizations in Florida and beyond on how to start their own backpack programs for youth in need.
These are just a few of the reasons Jeff Mitchell is the 2014-15 Community Investments Program Volunteer of the Year!
Fighting Hunger
For the EFELT project, Elks partner with local schools to identify youth in need, and provide them with a backpack of food each Friday afternoon as they leave school. Each backpack contains six complete meals for the weekend, so students can return to school healthy and ready to learn on Monday morning.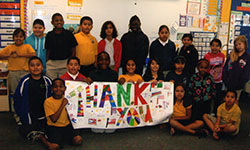 Originally, Elks partnered with two local schools to provide packs to 50 children each week during the school year. But that wasn't enough. Jeff was set on expanding the program to serve more children. He partnered with nearby Lakewood Ranch-Sarasota, Fla., Lodge No. 2855, and recruited dozens of volunteers from both Lodges and from the community. As volunteers flocked to help, businesses and churches joined in by holding food drives and fundraisers to provide for the children.
"The response from the community has been overwhelming," says Janet Mitchell, who nominated Jeff for this award.
Today, the program depends on more than 80 volunteers to keep going strong. And the expansion has been stunning—the program now provides backpacks for 670 children in 14 different schools each week!
Spreading the Word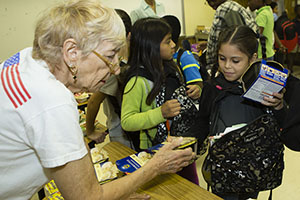 The community has taken notice of all this hard work, and recognized both Jeff and the Elks for their service.
"This project has not only provided great media coverage for Elkdom, but also brought scores of new members to our Lodge as our benevolence became known in the community," Jeff Mitchell states.
The program has been featured on local news stations six times, and Jeff has been honored twice for his role as Project Manager: once named a "Hometown Hero" by local news channel WTSP, and once named an "Every-Day Hero" by Bay News Brighthouse Network.
Thanks in large part to Jeff and the EFELT program, people in Manatee County know the Elks care about the community, and can be counted on to support youth in need.
"I truly believe Jeff exemplifies the Elk motto of 'Elks Care Elks Share' by providing a service to help children. He truly demonstrates the principles of Elkdom," says Janet Mitchell. "He has made our citizens aware of the heartbreak that exists in our community involving the plight of homeless and food-deprived children—and has established a program to help by providing as many children as possible with weekend meals."
The Elks National Foundation helps Lodges serve their communities in significant and ongoing ways by awarding Impact Grants of up to $10,000. Any Lodge can apply for these competitive grants. To find out more about Impact Grants and the Community Investments Program, visit www.elks.org/enf/community.