Supporting Students in Need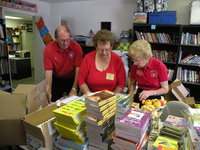 Learning to read is a challenge. Learning to read without access to books is nearly impossible. Elks from Norfolk, Va., Lodge No. 38 used a Gratitude Grant to partner with the local literacy program, REACH, to put books in the hands of children who cannot afford them. Elks read aloud to these youth once a month and volunteered at REACH's events. The Lodge greatly enjoyed the project and even gained three new members.
Bikes for Everyone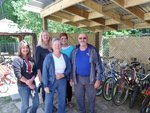 For women rebuilding their lives after a crisis, transportation is a key component to a bright future. Using a Gratitude Grant, Summerville, S.C., Lodge No. 2719 addressed this need by building a bike rack at a local women's shelter. Elks then filled the rack with new bikes helping the shelter's tenants travel to job interviews, commute to and from work, and more.
Helping Homebound Veterans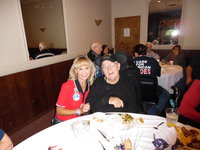 The Elks are there to serve those who served. In partnership with the State Veterans Home, Hope House and local assisted living facilities, Elks from Oak Ridge, Tenn., Lodge No. 1684 used a Gratitude Grant to provided dinner, gift cards, gas cards, and entertainment to homebound, homeless and needy veterans. Elks planned, shopped for and executed the event. Thanks to the Elks, these veterans in need now know they have a supportive family right in their neighborhood.
The Elks National Foundation helps Lodges serve their communities by offering Gratitude Grants of at least $2,000. Lodges are eligible to apply for Gratitude Grants after meeting the National President's per-member goal for giving to the Foundation. New in 2015-16, every Lodge in which more than 15 percent of its members donated to the ENF in 2014-15 will be eligible for a bonus of $500 when it achieves the GER's per-member-giving goal in 2015-16. That means these Lodges will be eligible for a Gratitude Grant of $2,500 instead of the standard $2,000.To find out more about Gratitude Grants and the Community Investments Program, visit www.elks.org/enf/community.
---
Back to top