Americans love to bowl, and the residents of Flat Rock are no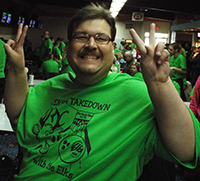 exception. Recently, Flat Rock, Mich., Lodge No. 1731 used a Beacon Grant to throw a bowling party so good that party-goers are already planning for next year. Elks partnered with local high school students and a group called Downriver Arc to throw the "Ten Pin Takedown" event.
Alley Athletes
Downriver Arc, a center for children and adults with disabilities, is always looking for fun, active events for Arc clients. The Arc athletes showed up to this event ready to play, their bright green shirts matched with bright smiles. After greetings, the Elks, students and Arc athletes split into teams and started bowling.
Soon, all 32 lanes were filled with 192 bowlers. The ARC athletes impressed with their skills, showing off two-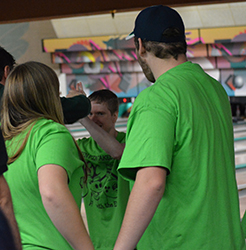 handed trick bowling techniques and seasoned celebration dances. Soon, parents were coming up to thank the Elks for a wonderful time, and the bowling alley owner even commented he'd never seen the place so packed and full of happy people.
"We strive to offer meaningful activities for people with disabilities, and you've had such a positive impact on all these activity programs through your support and participation," ARC Downriver Board President Jim Dickinson writes to the Lodge. "Events such as these are powerful tools for reaching out to the community and breaking down barriers and stigmas. Thank you so much."
Sports Fanatics
The bowling event was inspired by an annual softball game the Arc athletes play against a local high school team each year. The day was so popular with the high school and Arc athletes that the high school coaches, who are also Elks members, had the idea to expand.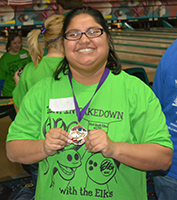 The Lodge has since used Promise, Gratitude and Beacon Grants to hold basketball games, softball games and other events for the youth and adult athletes at Downriver Arc.
"Every event has been fantastic," says CIP Project Manager Tom Harder. "Everyone is on board with this project. Sometimes you struggle to get volunteers for projects but with this project it's just unbelievable. We have too many people who want to help."
Another advantage of the events is that everyone involved has a chance to connect with other community members, make new friends, and forge new partnerships. Since the projects began, two of the Downriver Arc staff members, overwhelmed with the Lodge's support, have become Elks members.
The Beginning of a Beautiful Bowling Friendship
Thanks to the Beacon Grant, the Ten Pin Takedown is something all can look forward to for years to come—something the Elks are thankful for.
"We are very grateful to have the opportunity for these grants," says Harder. "We love to be able to help anyone in the community that needs it, and we have found that this is a great pairing with our Lodge, the ENF and with Downriver Arc. We couldn't ask for anything more from the grant program."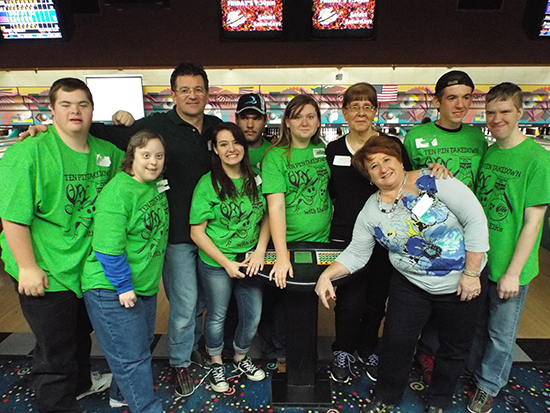 Through Beacon Grants, the Elks National Foundation gives Lodges the opportunity to develop an ongoing, charitable, Elks-driven community project. These $2,000 grants are available to all Lodges. To find out more about Beacon Grants and the Community Investments Program, visit www.elks.org/enf/community.